Inappropriate or Genius? Find Out the Interesting Way Amber Rose Bonds With Her Son
Some people may have a problem with this.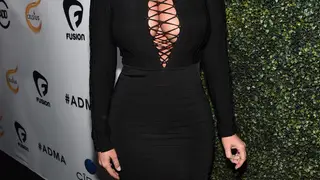 Amber Rose is gearing up for the launch of her new Dr. Phil-produced talk show and while making the promo rounds, she stopped by Late Night With Seth Meyers and the topic of twerking came up. The interesting part though, is Amber's admission that she pops it for her son.
"So my mom actually loves when I twerk," she said. "So, one day, my mom's like, 'Hey Am, do your little booty-shaking thing,'... So I did it one day and my son was right there and he fell on the floor, like, cracked up laughing, just crying laughing."
Now that she knows how much baby Bash loves her twerking skills, she says it's pretty much a constant thing in their relationship: "Now, I twerk for him all the time," she said. "He loves it. That's like our bonding moment."
Meyers then gave the mother a hypothetical situation: What if the 3-year-old started crying on a plane? What would Amber do? "I just bend over and shake my a*s and then that's it," she said, laughing. "He's happy again!"
Take a look at the interview, below:
See what Amber Rose had to say about her longtime nemesis Kim Kardashian in the BET Breaks video, above.
BET.com is your No. 1 source for Black celebrity news, photos, exclusive videos and all the latest in the world of hip hop and R&B music.