65th Annual Grammy Awards: Get to Know Grammy Nominee Muni Long
The legendary songwriter is up for three nominations, including 'Best New Artist.'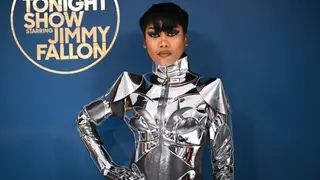 The 65th Annual Grammy Awards are just around the corner. Some of today's hottest and rising artists are in the running for multiple awards, including veteran songwriter and breakthrough r&b singer Muni Long.
After initially coming out as a singer, Long shifted her focus to creating hits for her musical peers, including H.E.R., Ariana Grande, Rihanna, Pitbull, and many more. However, it wasn't long before she began releasing music of her own, ultimately finding success after releasing her smash r&b single "Hrs & Hrs" from her eight-track EP, Public Displays of Affection.
The effort earned her three nominations, including "Best R&B Song," "Best R&B Performance," and "Best New Artist." Ahead of the biggest night in music, hosted by Trevor Noah, check out some of Long's biggest hits so far. And don't forget to catch the 65th Annual Grammy Awards on February 5, 2023.
Hrs & Hrs

After years of creating hits for other prominent artists in the business, including talents such as Ariana Grande and Rihanna, Muni found delayed breakthrough success in February 2022 with the release of her r&b smash single "Hrs and Hrs." After initially debuting the year before,  streaming platform TikTok helped spark attention around the record with the birth of the "Hrs and Hrs Challenge" and ultimately pushed the veteran songwriter to number one on the Billboard Emerging Artists chart.

Dollhouse

In 2009, Muni, known then by Priscilla Renea, released her debut single, "Dollhouse," an uptempo dance song with neo-electro influences filtered throughout. The track garnered significant success, including peaking at number 10 on Billboard Bubbling Under Hot 100 Single chart and number 34 on the Pop Songs chart.

Time Machine

Much like Muni's 2021 single "Hrs & Hrs," her follow-up, "Time Machine," an r&b track about a relationship the singer regretted getting into, found viral success on the short form streaming platform TikTok.