Calif. Reparations Commission At Odds Over Who Would Receive Payment
Members hotly debated whether to include Black immigrants in their reparations proposal.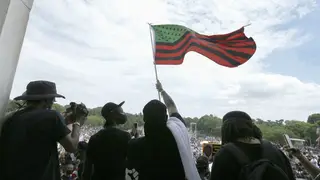 The California task force studying reparations for the state's Black residents voted 5-4 on Tuesday (March 29) to limit compensation for slavery to the descendants of free and enslaved Black people living in the United States in the 19th century, the Associated Press reports.
That means Black Californians with a lineage of immigration from the Caribbean and Africa would be ineligible to receive reparations.
In 2020, Gov. Gavin Newsom enacted legislation that created the two-year reparations task force to study the institution of slavery and its harms and to educate the public about its findings.
The eligibility debate was contentious among the task force members, as well as folks who expressed their views at the virtual meeting.
California Secretary of State Shirley Weber has argued that opening up compensation to Black immigrants would sharply reduce the compensation available for U.S. descendants of slaves, CBS News reported. Consequently, she wants to prioritize Black residents with direct geneological links to Slavery in the United States.
Weber, who authored the legislation that created the task force, is the daughter of Arkansas sharecroppers. She said the legacy of slavery nearly destroyed her family and made them struggle just to make ends meet.
Those who want an inclusive approach to eligibility underscored that the legacy of slavery impacts all Black people living in the United States, according to the AP. Institutionalized racism, they say, is behind inequality in the criminal justice system, education, housing, and many other aspects of life.
"We need to galvanize the base and that is Black people. We can't go into this reparations proposal without having all African Americans in California behind us," the AP quoted Lisa Holder, a civil rights attorney and task force member.
Further, advocates for wider eligibility point out that the history of slavery is complex in terms of proving lineage. Ancestry is not easy to document, partly from slave owners frequently moving people among plantations in the U.S., the Caribbean and South America, Nkechi Taifa, director of the Reparation Education Project, said, according to CBS.
Meanwhile, it's still unclear exactly what reparations would look like in California. The AP reported that there's no compensation plan on the table. Some of the compensation options include free college, assistance buying homes and grants to community-based organizations.
Attempts to pass similar reparations legislation have failed at the federal level. At the city level, Evanston, Ill., a Chicago suburb, in 2021 became the first city to make reparations available to Black residents. There are no direct cash payments involved. Compensation for slavery includes funding housing programs.
The task force's reparations proposal is due by July 2023 for state lawmakers to consider.