Trae Tha Truth Brought Food and Supplies To Texas Inmates After Hurricane Harvey
"Everyone needs support in these times."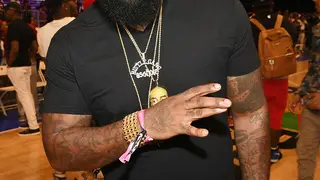 Trae Tha Truth has been doing everything in his power to help his hometown of Houston recover after Hurricane Harvey destroyed most of the land. After personally boating more than 100 residents to safety, the rapper most recently teamed up with rapper Chamillionaire to supply local inmates in Beaumont, Texas with food and other resources.
The two rappers reportedly headed to Beaumont on Sept. 2, to deliver food and supplies to inmates at the Jefferson County Jail, according to reports. The rapper posted a number of videos and photos on Instagram, chronicling his journey. "I Got A Call Sayin Inmates Locked Up Didn't Have Water Or Food…. We Pulled Up To The Jail Wit Food & Water…. All Luv… Today Was A Blessing," Trae captioned an image of him and Chamillionaire posing with a number of smiling prisoners and officers.
The rapper also shared a short video clip of him and others bringing in several boxes of pizza for the hungry inmates. "Blessed To Feed Tha Jail Today... Everyone Needs Support In These Times... Salute To All Tha Inmates In Jefferson County Jail...... Love," he captioned the video.
Trae has reportedly been working hard since the tropical storm hit to help any and everyone affected by the devastating floods in the Houston area. In a brief phone interview with BET, Trae explained that there are a lot of things people can do to help. The rapper also launched a GoFundMe, courtesy of his Angels by Nature foundation to help fund immediate relief for residents.
The fund has reportedly raised more than $30,000, and the donations are only continuing. "The reason I created my GoFundMe is for the immediate [relief]. [The other organizations] are going to raise more money than I could ever raise. And hopefully by that time, it will have finally kicked in. But right now, I'm trying to raise $250,000 to split between Houston, Beaumont and different places like that," he told BET. "I'm raising money and going through the neighborhoods. Anything they say they need, if we have it and are able, we're going to go get it hands on instead of waiting for something to come in the mail."