Tyler Perry Claps Back at Black Twitter
"Everybody has the right to tell their story," he says.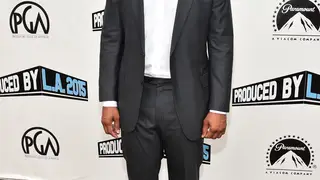 Tyler Perry isn't here for Black Twitter's criticism of his body of work.
During an interview on Good Morning America, the media mogul clapped back at critics who have claimed that his films and TV shows portray African Americans in a negative light.  
Perry first voiced his disdain for critics in an article with New York Magazine. "Let me tell you what took me aback about that [criticism], when people were like, 'How dare you put fat Black people on television, these are caricatures, these are stereotypes'" he said at the time. "I was so offended because my aunt's fat.  My mother's fat. My cousins are fat." Perry maintains that his characters, which critics have described as modern-day minstrelsy, are simply the characters from his real life experiences.
In the GMA interview with Robin Roberts, Perry continued to defend his work while also turning the judgment back onto those who criticize him. "I was pretty taken back by it…I think everybody has the right to tell their story no matter who you are no matter where you come from," he says. "There's this section of our culture that decides who should and shouldn't speak, and who has the right to tell their stories and who shouldn't. I think every in this country should have the right to tell their story and be represented in television fairly."  

In the same interview, Perry also gushed about his 1-year-old son. "He is my healer, because I look at my self in his eyes," said the proud dad.  "Everything that I'm finding about growing up and the things that went wrong in my life, I get the opportunity to do them right for him. So he is my healer."
Sounds like Perry is unbothered by the haters, and for good reason. Forbes recently declared him one of the highest-paid men in Hollywood. Watch our interview with the hard-working filmmaker below:
BET.com is your #1 source for Black celebrity news, photos, exclusive videos and all the latest in the world of hip hop and R&B music.
 (Photo: Alberto E. Rodriguez/Getty Images)