Mo'Nique Defends Her 'Friend' Roseanne Barr After Racist Tweets, And Twitter Is Livid
Issa "no" on this one.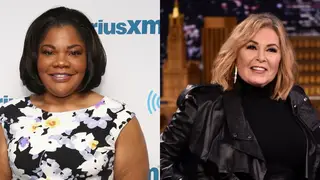 Mo'Nique often says she feels as though she's been blackballed by Hollywood since winning the Academy Award,  but thanks to her recent choice to dismiss the racist comments Roseanne Barr made about former Obama White House adviser Valerie Jarrett, #BlackTwitter is set to press the cancel button. 
In efforts to give her fellow comedian a second chance, the 50-year-old comedian wants Roseanne to know,  "you have a friend in me."
Here's what Mo'Nique had to say about why she still supports her "sister in comedy," and why she wouldn't "put (Barr) on the racist list."
"I remember when I had the 'Mo'Nique Show,' and there were big, major black superstar talent that had white representatives and they told their talent, 'That show is too black and we really don't want you to go on there,'" Mo'Nique shared. "But there was a white woman named Roseanne Barr that showed up for me. … And they didn't hear the conversation when the cameras weren't rolling. … That woman was giving me some beautiful words."
"My sister made a mistake and she said something I know she wishes she could take back," Mo'Nique continued. "But what I would ask is we don't throw her away."
In fact, she'd like to see Barr and Jarrett "come together."
We're not too sure about that thanks to Rosanne's recent outburst stating: "I thought the b*tch was white!"
Let's just say #BlackTwitter wasn't here for it:
Keep scrolling to see Mo'Nique's interview with KTLA 5.