Watch Angela Simmons Take On Beyoncé's #BeforeILetGoChallenge On A Stripper Pole
Plus, see #BeforeILetGoChallenges that were Bey-approved!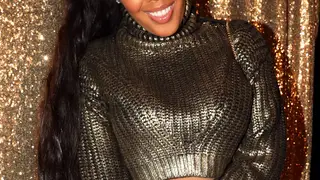 Beyoncé's version of Frankie Beverly and Maze's "Before I Let Go" is set to be this summer's greatest hit, and in case you haven't noticed, the #BeforeILetGoChallenge is the latest dance challenge taking over social media.
After releasing the cover song to accompany her iconic 2018 Coachella HOMECOMING concert film and documentary, members of the BeyHive wasted no time before beginning to: "Turn around, kick, then slide/ And twirl that a** to the right now/ Ooh, bunny hop, bunny hop, drop, pop/ Cross your legs, turn around and clap/ Shuffle to the left, let's glide now/ Ooh, drop it down, drop it down low, low." 
After hearing all the buzz, Angela Simmons hopped on social media to answer Queen Bey's call for dynamic dancing. 
"We all know when the queen calls a challenge I do it," the 31-year-old posted along with the dance clip. "I'm no dancer but hey!"
Flexing her skills (and all-natural body!), the mother-of-one slayed the #BeforeILetGoChallenge with a pole-dancing twist. 
You better get it, girl! Without a doubt, Angela will end up on Bey's Insta stories among her other favorite #BeforeILetGoChallenge dance clips.
Speaking of favorites, below we have compiled a best of the #BeforeILetGoChallenge (including videos reposted by Yoncé).
See how the BeyHive is getting all the way ready for the cookout below:  
#BeyApproved: Charles Smith Jr.'s Choreography created #MelaninMagic not once, but twice!

Beyoncé Impersonator SHALAE was flawless as she repped Nigel Shelby.

#BeyApproved: Kendra Oyesanya & Antwon Collier Gave Us All Kinds Of Partner perfection.

Meteorologist Nick Kosir earned his invitation To The Cookout!

#BeyApproved: Eric Willis & His Momma were goals with their wedding dance moves.

#BEYAPPROVED: 'The Happy Kids' had us all smiling with their dance skills.

These ladies had to rep for HBCU's!

Javon King, DevinRe Adams, & Xavier couldn't give up the chance to get in on the fun.

Soulcycle Instructor Shane Yarbrough changed up the game with this one!

Even Spider-man didn't come to play...