This Video Of Clark Atlanta University Cheerleaders Literally Sleeping On Morehouse During A Battle Left People In Tears Laughing
They had everyone's crying emojis in over drive.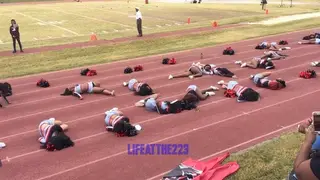 Oh, the turn up is real when it comes to HBCU football action ... and that includes the cheerleaders.
Morehouse College destroyed Clark Atlanta University, 40-0, this past weekend, but Clark's cheerleaders made sure to hand their rivals a giant "L" by literally sleeping on them during their cheerleader battle.
While the ladies of Morehouse were doing their cheer, Clark's cheerleaders sprawled out on the field and took a nap, unenthused by their rivals' routine.
And just like that, social media lost it with these reactions.
Here's the footage of Clark Atlanta University's cheerleaders sleeping on Morehouse

What a time to catch some Zzzz.

The video was picked up by The Shade Room, which managed to increase the notoriety of Clark's napping

and people were amped to see the clip get that kind of attention

*Morehouse, but "ayeee," indeed!

People loved everything about it

And they pulled up with all the crying emojis possible

Don't front ... the move was something of legend.

Yes, Morehouse gave Clark that work on the field, but Clark's cheerleaders weren't to be messed with at all