Selma Heading Back to Theaters With Two-for-One Ticket Offer
Re-release timed with 50th anniversary of march.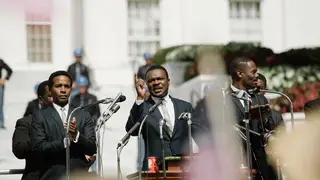 Selma is marching back into theaters. Paramount Pictures has announced an encore presentation of Ava DuVernay's Oscar-nominated historical drama to begin March 20, with a buy-one-get-one-free ticket promotion to make sure everyone has a chance to see the seminal film.
The re-release, which comes not long after the film's initial run, is timed to commemorate the 50th anniversary of the events depicted in the film.
Selma follows Dr. Martin Luther King Jr. (David Oyelowo) over three months in 1965, as King leads the Selma to Montgomery marches for civil rights. His efforts culminate in the signing of the Voting Rights Act by President Lyndon B. Johnson (Tom Wilkinson).
The film was nominated for Best Picture at the 2015 Academy Awards and also boasts "Glory," a powerful anthem by Common and John Legend that won Best Original Song.
BET.com is your #1 source for Black celebrity news, photos, exclusive videos and all the latest in the world of hip hop and R&B music.
Click here to subscribe to our newsletter.

 (Photo: Atsushi Nishijima/ Paramount Pictures)