'Central Park Five' Member Yusef Salaam Wins Final Tally In NYC City Council Primary
The political novice is on track to represent Harlem in the city's legislature, marking an amazing triumph over adversity.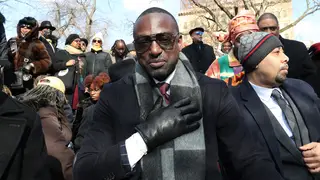 Updated results of New York City's June 27 primary elections confirmed that Yusef Salaam, a political novice best known as one of the wrongly imprisoned Central Park Five, won his Democratic primary race and is poised to represent Harlem in the New York City Council.
CNN reports that a reallocation of ranked-choice voting results released on Wednesday (July 5) expanded Salaam's lead from just over 50 percent of the first-choice votes to nearly 64 percent over two seasoned politicians.
On Election night, Salaam, 49, declared victory over his closest competitor New York Assemblywoman Inez Dickens who had 25 percent of the first-place votes and Assemblyman Al Taylor who garnered just 14 percent of the first-place votes.
In New York City's ranked-choice system, voters can rank up to five candidates on a ballot based on their preference. A candidate is declared the winner if they receive more than 50 percent of the first-choice votes.
If no one passes the 50 percent threshold, the candidate with the fewest votes is eliminated and their first-place votes are redistributed to voters' next choice - a process that continues until only two candidates remain.
The Associated Press reported that although Salaam's first-place votes barely exceeded the 50 percent threshold in the first round of counting, election officials still had an unknown number of absentee ballots to count before declaring a winner in the race.
Salaam was part of a group of the five Black and Latino teens found guilty at trial, based on coerced police confessions, in the notorious 1989 Central Park rape jogger case and served nearly seven years in prison. But their convictions were thrown out in 2002 after a career criminal confessed to the attack, and they became known as "The Exonerated Five."
Before entering politics, President Donald Trump in 1989 placed newspaper ads calling for the death penalty against the five youths before they went on trial and later refused to apologize after their exoneration.
Now that Salaam has officially won his race, he's well-positioned to join the City Council. Salaam is unlikely to face a serious challenge in November's general election, if any. His campaign focused on increasing affordable housing, curtailing gentrification and improving the quality of life in Harlem, still a largely Black and Latino community.
Salaam is a board member of the Innocence Project and founding member of Justice 4 the Wrongfully Incarcerated.
"This is a victory for justice, dignity and decency for the Harlem community we love," Salaam said in a statement, according to The New York Times. "It's a victory in support of not turning our backs on those in need, for saying we are our brothers' and sisters' keepers and for saying the only way for all of us to thrive is to believe in the promise we all have."