T-Pain and Wendy's Will 'Buy U a Frosty' to Celebrate Their New Remix
The rapper-turned-sanger and the fast food giant will treat fans to free Frostys for two weeks to celebrate.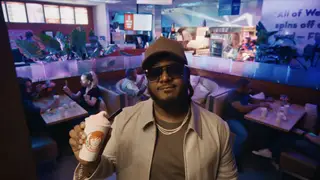 T-Pain and Wendy's have a treat for you.
To celebrate their collaboration and the return of the strawberry frosty just in time for summer, the duo have released a hilarious remake of T-Pain's classic, "Buy you a Drank." Only this time it's "Buy you a Frosty," by Fros-T-Pain.
The new commercial dropped on Wendy's YouTube page and features T-Pain dressed in a monochromatic pink outfit that matches an all-pink room.
"Hey there you, I don't know your name but let me talk to you, let me buy you something," T-Pain sings, as the video cuts between scenes dancing in a parking lot next to a baby pink car and T-Pain singing in a microphone at a studio.
"Imma buy you a frosty," T-Pain sings in the chorus. "Now gonna take you home with me / I got money in the bank / Guess I'll take two Frostys, let's enjoy you and me."
"Taking bites like ooo ooo ooo ooo ooo," he sings, as he and customers dance to the hit. "We licking spoons like ooo ooo ooo ooo ooo."
T-Pain told People that he's a real fan of the hamburger chain. In fact, when they released a mixtape in 2018 called "We Beefin'" he was all in. 
"I loved Wendy's 'We Beefin?' mixtape back in 2018, and knew I wanted to work with them when the time was right," the musician said in a press release. "I couldn't pass up the opportunity to remake a classic with one of the most classic menu items of all time – the Wendy's Frosty."
T-Pain never bought us that drink back in 2007, so it's time he pay up.
Starting June 5, customers can get a free small Frosty with any purchase. Just order through Wendy's app or website, and you'll be eligible for a free small Frosty of your choice, including the Strawberry Frosty.
Just head to the "Offers" section of Wendy's app or site (found in the "Rewards" hub) and activate the free Frosty promotion. Then, order anything and you'll be eligible to get your favorite small Frosty for free.