​​Jussie Smollett Did Not Eat Food While In Jail
The former 'Empire' actor was reportedly fasting for lent.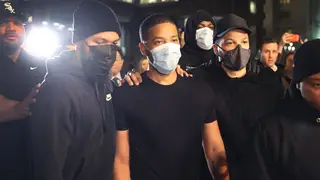 Jussie Smollett did not eat any solid foods while he was briefly behind bars.
According to Smollett's lawyer Nenye Uche, the actor only drank water when he was in Illonis' Cook County Jail.
"Ice water, that's been his food and liquid. I can only imagine if I was in jail for something I didn't do, I wouldn't be eating," Uche said outside of the county jail after his client's release.
However, TMZ  reports the 39-year-old has been fasting since March 3 for lent.
Smollett was ordered to be released on March 16. The order was granted by the court after his lawyers successfully argued that he should be released pending the appeal of his conviction, according to the Associated Press,
Smollett was sentenced to 150 days in prison after being convicted of staging a hate crime. In addition to the jail time, he was ordered to pay $130,000 in restitution and serve 30 months of probation.
The next steps in Smollett's case are unclear, it could take months or even years to rule on his appeal.
Jussie Smollett has maintained his innocence.