Five Cases of Innocent Black Men Exonerated After Spending Decades Behind Bars
The exoneration of Sidney Holmes after serving 34 years of a 400-year sentence is one of many cases of justice being served decades late.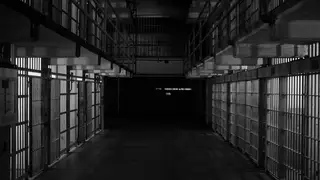 A man who served more than 34 years of a 400-year prison sentence has been released after the state of Florida reinvestigated the case and determined he did not commit armed robbery.
According to CBS News, Sidney Holmes is now a free man, having been arrested in October 1988 for driving two unidentified men who robbed a man and woman at gunpoint outside a store.
With a pair of prior robbery convictions and deemed a habitual offender, Holmes was found guilty by a jury in April 1989 of armed robbery, and sentenced to 400 years. The state attorney's office asked the judge to sentence him to 825 years.
In 2020, Holmes contacted the State Attorney's Conviction Review Unit arguing that Holmes' witness identification was likely a "misidentification" due to police enforcement's "scientifically inaccurate" photo and live lineup techniques.

Unfortunately, Holmes' case is not rare.  Here are five other examples of innocent men spending decades behind bars, only to be exonerated.
Anthony Ray Hinton 30 years on death row

Hinton was wrongfully convicted of two murders in 1985 and spent nearly 30 years on death row in Alabama before being exonerated in 2015. He was convicted based on faulty ballistics evidence, which claimed that bullets found at the crime scene matched the gun found in Hinton's mother's home. However, new ballistics testing proved that the bullets did not match.

Despite Hinton's insistence on his innocence, his appeals were denied for years, and he remained on death row. It wasn't until the Equal Justice Initiative, a nonprofit organization, took on his case and uncovered the flaws in the ballistics evidence that he was finally released. Hinton's case highlights the need for greater scrutiny of forensic evidence and the importance of the presumption of innocence.

Hinton was found guilty of murdering two Birmingham restaurant workers, John Davidson on February 25, 1985, and Thomas Vason on July 2, 1985, despite the lack of eyewitnesses, fingerprints, or other physical evidence.

The Supreme Court overturned Hinton's conviction after discovering that his defense attorney had recruited a "expert" witness, civil engineer Andrew Payne Jr., whom he considered "inadequate" because he didn't think he could pay more than $1,000 on a better one. Additionally, Payne had one eye and could hardly see through the forensic microscope, and he had limited experience evaluating ballistic evidence for trials.

Clarence Harrison 17 years in prison

Clarence Harrison was wrongfully convicted of rape and robbery in 1987 and sentenced to life in prison plus 40 years in Georgia. The victim was attacked in 1986 by an unknown assailant who sexually brutalized her, broke her front teeth, and stole her wristwatch and money. Police were led to Harrison because he lived near the location of the crime and because neighbors reported that someone at his house had a watch to sell. Harrison was identified by the victim and another woman who lived in the neighborhood.

Convicted based on the testimony of a key witness who later recanted and admitted that she lied under pressure from the police, Harrison's appeals were denied for years. He sought DNA testing since 1989, and in 2003 he became a client of the Georgia Innocence Project. In 2004, new DNA samples were taken from Harrison, and they were sent to a forensic lab in California along with the slide from the rape kit. The lab concluded that the DNA evidence obtained from Harrison could not belong to the same man whose DNA was in the rape kit. Harrison was exonerated in 2004 after serving more than 17 years in Georgia prisons. In 2009, he was awarded $1 million in state compensation.

Ricky Jackson 39 years in prison.

Jackson languished in an Ohio prison just shy of 40 years for a crime he did not commit. He was convicted, along with two friends, of killing Harold Franks outside a convenience store in 1975. Although the police never found the murder weapon and Jackson and his friends insisted they were not involved, a 12-year-old boy named Eddie Vernon provided a statement to the police, identifying the three men as the perpetrators. Although Vernon's testimony was shaky, three separate juries accepted it, and the men were convicted and sentenced to die by electric chair. Jackson spent years on death row and then in the general population of Southern Ohio Correctional Facility, where he would sometimes get into fights with other inmates and then be forced into months of solitary confinement.

In 2011, a magazine published an article about the frailty of Jackson's conviction, and Vernon eventually recanted his testimony, saying that the police had coerced him into identifying Jackson and his friends. In 2014, prosecutors dismissed charges against the three men, and Jackson was released after spending his entire adult life in prison. He received nearly $1 million in settlement money and bought a new house for himself and his fiancée.

Wilbert Jones 46 years in prison

Jones was convicted of aggravated rape in 1974 and was sentenced to life in prison without parole. The victim had identified Jones in a lineup, and although there was no physical evidence linking him to the crime, he was found guilty based on her identification alone. Jones maintained his innocence throughout his 46 years in prison, but multiple appeals were denied, and he remained behind bars until his release in 2020.

In 2017, the Innocence Project New Orleans took on Jones' case and found new evidence that pointed to his innocence. They discovered that the prosecution had withheld evidence from the defense, including a police report that described a different suspect who resembled Jones and had committed similar crimes in the same area. The victim also recanted her identification of Jones, saying that she had been pressured by the police to identify him and had never been certain of his guilt.

Based on this new evidence, a judge ordered a new trial, but the prosecution decided not to pursue the case and dropped all charges against Jones. He was released from prison in November 2019, and in 2020, he was officially exonerated by a Louisiana judge.

Richard Phillips 45 years in prison

In 2018, Phillips, after four and a half decades behind bars, became the longest-serving U.S. inmate to win exoneration. He was cleared of a 1971 homicide after an investigation by University of Michigan law students and the Wayne County, Mich., prosecutor's office.

He was convicted in 1972 of the murder of a Detroit businessman, despite the fact there was no physical evidence linking him to the crime. The prosecution's case relied heavily on the testimony of a witness who later recanted and admitted that he had been coerced into identifying Phillips as the killer.

Despite this, Phillips remained in prison for decades, maintaining his innocence and fighting for his freedom through a series of appeals. It wasn't until 2010 that a group of lawyers and students at the University of Michigan Law School took up his case and began to uncover new evidence that pointed to Phillips's innocence.

This evidence included statements from witnesses who had never been interviewed by police, as well as ballistics tests that showed that the bullets recovered from the crime scene did not match the gun that Phillips was alleged to have used.

In 2017, a judge granted Phillips a new trial, and the following year, the charges against him were dismissed.