Commentary: In North Carolina, the Spirit of Movement Thrives
A large protest in North Carolina against conservative legislation proves that the spirit of the civil rights movement is still alive.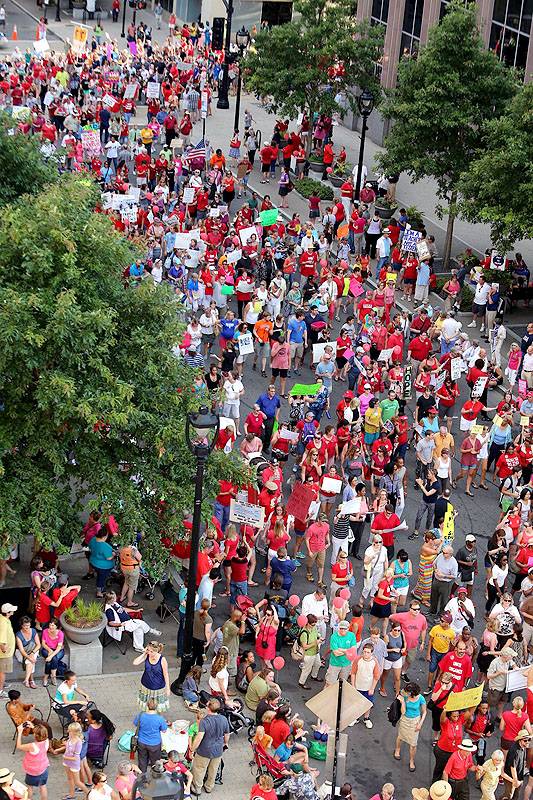 Anyone who believes in a waning of the passion and commitment of folks during the civil rights movement need only look to the events this weekend in Raleigh, North Carolina. More than 80,000 people from all walks of life, from a wide range of ethnic backgrounds, ages and life circumstances came together to protest the increasingly conservative laws and initiatives coming from the Republican controlled legislature in that state.
What many forget about the civil rights demonstrations of the 1960s is how they expanded from the Black communities in the South to protests that drew a multi-racial cast of Americans. The Montgomery Bus Boycott started as a movement among working-class Black commuters. But within a few years, the protest movement had developed and grown to the point that the participants in the freedom rides and other direct forms of nonviolent confrontation were students, clergy and others, both Black, white and Hispanic.
And so, the current movement in North Carolina takes on that same spirit.
"We are Black, white, Latino, Native American," said the Rev. William J. Barber II, the head of the NAACP in North Carolina and the primary champion of the current protests.
"We are Democrat, Republican, independent. We are people of all faiths, and people not of faith, but who believe in a moral universe. We are natives and immigrants, business leaders and workers and unemployed, doctors and the uninsured, gay and straight, students and parents and retirees. We stand here — a quilt of many colors, faiths and creeds."
The kinds of measures that are being passed by North Carolina's conservative Republican-controlled legislature are precisely the kinds of initiatives and laws that are being considered and passed by similar bodies in other states around the country.
One can only hope that the kind of outrage that has fueled North Carolinians to travel to Raleigh and protest will develop and grow in other states. Already, there have been recent demonstrations in Georgia of the same sort, a result of people angered by changes in voting laws engineered to keep people of color away from the polls. But these are measures that are being pursued in Ohio, Texas and elsewhere. And similar grass-roots protests would do well to ignite in those places, too.
In North Carolina, the state's Republican governor, Pat McCrory, has dismissed the protesters repeatedly as outside agitators though the movement in North Carolina is clearly growing. It's a message that, in this age of staggering political influence of the Koch brothers and other wealthy conservative extremists, the average working American is still fervent about fairness and justice. Hopefully that force will grow and truly be heard as Americans go to the polls later this year.
The opinions expressed here do not necessarily reflect those of BET Networks.
BET National News - Keep up to date with breaking news stories from around the nation, including headlines from the hip hop and entertainment world. Click here to subscribe to our newsletter. 
(Photo: Al Drago/Raleigh News & Observer/MCT/Landov)