Fear Of White Extinction: Here Is What We Know About Buffalo Shooter Payton Gendron
His purported manifesto posted two days prior to the mass murder details plans to carry out the attacks.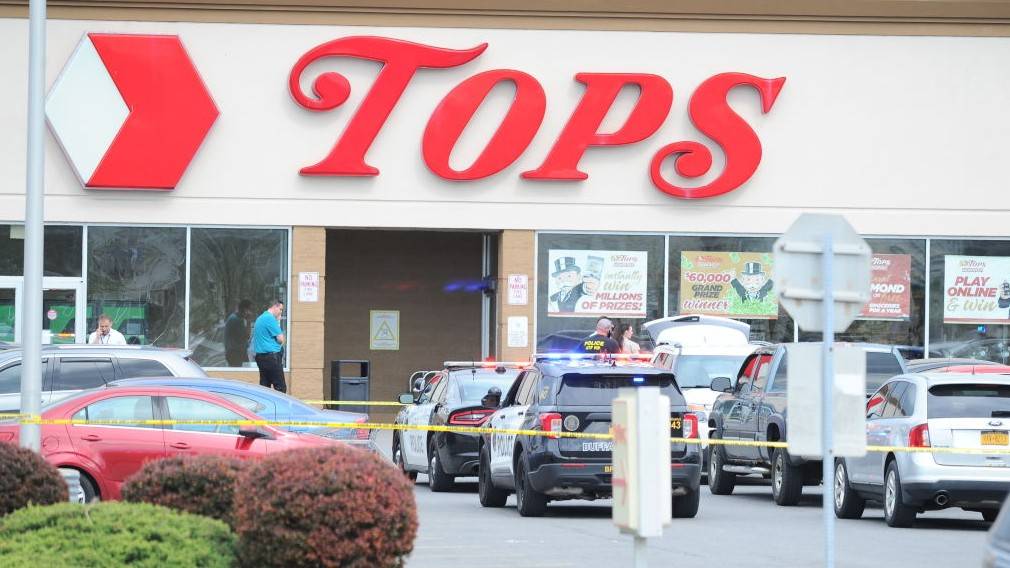 In the hours after Payton S. Gendron, 18, opened fire Saturday at a supermarket in Buffalo, N.Y. about 2:30 p.m. (E.T.), disturbing details have emerged about the avowed White supremacist, accused of killing 10 people and wounding three.
Here's what we know so far about the assailant of the mass shooting:
MOTIVE: FEAR OF THE "GREAT REPLACEMENT" THEORY, THE DWINDLING WHITE POPULATION
Gendron apparently wrote and posted a clear public declaration that repeatedly cited "Great Replacement" theory," which is the false belief that a secret political group is working to replace white Americans with non-white people through interracial marriage, immigration and inevitable violence, NBC News reports.
The PDF was originally posted to Google Docs at 8:55 p.m. Thursday, two days before the shooting at Tops Friendly Market in the heart of Buffalo's Black community, according to file data accessed by NBC News. The document, which specifically detailed the motives of Saturday's shooting, included biographical details and birthdate that align with Gendron's identity.
NBC News states that the document claims the suspect chose Buffalo because it's the city with the highest amount of Black residence near his hometown of Conklin, roughly a three-and-a-half drive to Buffalo.
Gendron, who was remanded and held without bail following the attacks, pleaded not guilty on Saturday (May 14), according to CNN,  He was charged with first-degree murder.
Authorities say when the suspect arrived at the store around 2:30 p.m. (E.T.), he was heavily armed, wearing tactical gear, a helmet, CNN reports. He used an assault weapon, Erie County District Attorney John J. Flynn said at a Saturday news conference.
KILLINGS REPORTEDLY LIVESTREAMED
Twitch, the popular livestreaming platform, said Saturday that the suspect used its platform to stream a live broadcast during the attack, CNN writes. A spokesperson for Twitch told CNN that the platform removed the livestream less than two minutes after the violence started. It was unclear if the suspect was actively firing when the livestream was halted, the report notes.
Gendron is set to return to court on May 19 for a felony hearing, where officials say more charges may follow, according to a press release from the Erie County District Attorney's Office.
If convicted of the first-degree charge, he faced the maximum sentence of life in prison without parole.
The U.S. Department of Justice's Office of Public Affairs released a statement calling the massacre a hate crime and was racially motivated.
"The Justice Department is investigating this matter as a hate crime and an act of racially-motivated violent extremism," the DOJ release states. "The Justice Department is committed to conducting a thorough and expeditious investigation into this shooting and to seeking justice for these innocent victims."