Aaliyah's Final Studio Album To Be Released On Vinyl For The First Time
The late singer's self-titled LP dropped over two decades ago.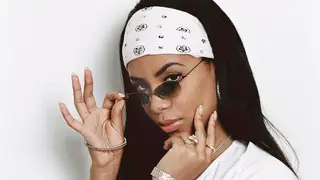 Aaliyah's self-titled and final studio album is receiving the vinyl treatment for the first time and will be available next month via Vinyl Me, Please's Essentials Record of the Month subscription program.
According to Rolling Stone, the offering arrives as a two-LP set pressed on red and gold galaxy-colored vinyl. It also comes with a listening notes booklet and art print.
"It's long been a dream for VMP to bring this remarkable record to our members," Amileah Sutliff, VMP's Head of Editorial, said in a statement, according to the outlet. "Aaliyah is a true masterpiece from an artist who was unimaginably influential in her too-short time on earth, so it means the world to us to be able to honor her legacy and finally present a definitive vinyl reissue, created with the level of care this record deserves."
The Aaliyah vinyl pressings are half-speed mastered by Barry Grint and Alchemy Mastering at AIR Studios in London.
Aaliyah was released just one month before the famed singer died in a plane crash. It rose to the top of the charts and earned her multiple posthumous Grammy nominations, including Best R&B Album and Best Female R&B Vocal Performance for "Rock the Boat" and "More Than a Woman."