Victim Of Botched Chicago Raid Says Slain Black Officer Was Only One Who Showed Her 'Dignity Or Respect'
She says Officer Ella French was the only one who showed her "dignity or respect."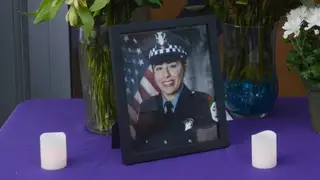 Anjanette Young, the Black woman who said she was humiliated during a botched 2019 police raid at her Chicago home, is mourning the loss of Officer Ella French – the only officer she says showed her "dignity or respect."
Twelve officers, who were executing a search warrant, burst into Young's home. Police broke down Young's door with a battering ram while acting on erroneous information in search for a suspected felon in February 2019. Released body cam footage showed that Young was undressed at the time, and police placed her in handcuffs while she repeatedly told them that they had the wrong house. 
In a statement Wednesday (August 11), Young said French showed up at her house after the raid and "assisted Ms. Young and allowed her to get dressed, in the privacy of her bedroom," according to the Chicago Sun-Times.
Additionally, French is mentioned in Young's lawsuit against the City of Chicago.
"The unknown female Chicago police officer walked Anjanette Young into her bedroom and removed the handcuffs," the suit states. "The female Chicago police officer then turned off her bodycam so Anjanette Young could get dressed."
The Chicago Tribune reports on August 7, French was shot and killed during a traffic stop in Chicago's Englewood neighnborhood. Two brothers, one of whom is charged with French's murder, are being held without bond.
Young told Chicago station WLS that Chicago Mayor Lori Lightfoot promised to "make her whole" at a meeting back in December where Young personally accepted the mayor's apology. "And yet here we are almost six months later, and she's threatening to dismiss this case," Young said.
WLS reported that in April 2020, the city's attorneys rejected Young's settlement demand and counter-offered with zero dollars. In late May 2021, a mediator got involved in the case. 
Keenan Saulter, Young's attorney, said that the biggest number the city offered during mediation was less than half of the settlement amount for a previous case similar to Young's. According to WLS, the previous case settled for $2.5 million.