Four Young Relatives Killed In Devastating Car Accident While Toddler In Backseat Miraculously Survived
The victims family say 'God saved' baby Josiah.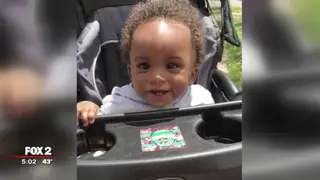 Four young relatives in Michigan were killed in a tragic car accident on Monday. However, the toddler in the backseat was somehow the sole survivor.
Josiah, who just turned one on Saturday, was in the car with his mother, her best friend, his uncle and cousin.
Londa Nixon, Josiah's aunt, is calling his survival a "miracle." Nixon explained her 20-year-old niece, Alesia Maddox — who died in the crash — named the baby after a Hebrew king whose name means "God has healed."
"His name says it all: Josiah. She got his name from the Bible. We teased her about it — you want his name to be Josiah? She said yeah, I like that name, I don't know the reason why. It's just like a miracle that nothing's wrong with him — nothing," Nixon told Fox 2 Detroit.
The crash occurred around 1 a.m. along 8 Mile Bridge when the family's SUV lost control.
"The car came past doing about 80, flew past us and then he hit the wall and spun out of control," John, a witness, told Fox.
John and his father stopped to help but the driver, 20-year-old Dorii Rogers, and Alesia, who was in the passenger seat, had already died.
Josiah was safe in the backseat with his seatbelt. However, Alesia's brother, 18-year-old Armonie Maddox, and cousin, 18-year-old Ervin Johnson, were ejected from the car and killed.
"That was the only thing that saved the baby was the car seat. It was shocking," John added.
Authorities are urging others to make sure to follow the speed limit and make sure all passengers are safely strapped in the vehicle.
"The child was the only one that survived and was the one that was actually buckled in," Lt. Mike Shaw told Fox. "Speed and seatbelts — it's the main thing we talk about all the time. The simple fact of doing the speed limit will save your life," Shaw said.