Mariah Carey, Pharrell Williams And Outkast Have Been Nominated For The Songwriters Hall Of Fame
This is Carey's second nomination in a row.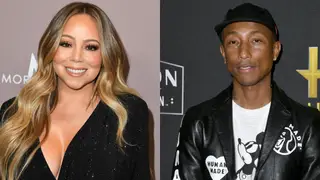 The Songwriters Hall of Fame has announced their shortlist of songwriters and artists nominated to be inducted into the coveted Hall of Fame's 2020 class. 
The list of nominees was published by the Associated Press on Tuesday (Nov. 5), and 24 acts are in contention for the prestigious distinction. Of the 24, only six finalists will be immortalized into the Hall of Fame. Songwriters are eligible "for induction 20 years after the first significant commercial release of a song," according to the Hall of Fame's website. 

Mariah Carey, who co-penned 17 of her 18 No. 1 chart-topping hits, is up for the award after she was nominated for the first time in 2018. However, Mimi might find herself up against some stiff competition this year. Other notable visionaries that made the shortlist include Outkast, the Isley Brothers and the Neptunes. Big Boi responded to his and André 3000's nomination on Instagram, where he penned an enthusiastic "OK Den!" in response to the news.

If inducted, Outkast and Williams will join Missy Elliott, Jay-Z, and Jermaine Dupri as one of the few hip-hop acts to ever to earn the distinction. Elliott's induction into the Hall of Fame this year was a notable record achievement for the culture as she was also the first female rapper to receive the accolade.

Eligible members can vote for three non-performing songwriters and three performing songwriters until December 16. The induction ceremony will take place on June 11, 2020, in New York City.

Read the full list of nominees eligible for the Songwriters Hall of Fame here.