Obama to Address Syria, Economy With Top Leaders at G8 Summit
President Barack Obama will meet with seven of the world's top leaders at the annual G8 summit meeting in Northern Ireland. The war in Syria, North Korea, Iran and the global economy are also on the agenda for the two-day global event.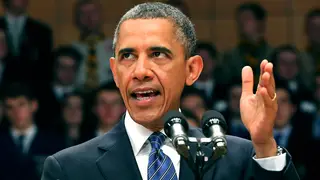 President Barack Obama joined world leaders in Northern Ireland today to discuss the war in Syria and other pressing topics at the annual G8 economic summit. North Korea, Iran, the global economy and international corporate taxation have also been placed on the summit agenda.
Discussions of a possible trade deal launched the two-day global event, according to CNN. During the conference, Obama announced a trans-Atlantic trade agreement between the United States and European Union set for negotiation in July.
"I believe that we can form an economic alliance as strong as our diplomatic and security alliances," Obama told reporters.
A general consensus was reached regarding the benefits of a US-EU trade agreement, but the discussion on Syria's government might prove to be more controversial. As the only country that has continued to support Syrian President Bashar al-Assad, Russia is expected to face increasing pressure from the other seven leaders, all of whom have backed Obama's recent pledge to assist Syrian rebels.
Upon arriving in Belfast this morning, Obama addressed a group of young people and officials on the area's splintered history and the rewards of "a permanent peace."
"There are still wounds that haven't healed, and communities where tension and mistrust hangs in the air. There are walls that still stand; there are still miles to go," Obama said during his speech at the Waterfront Hall in Belfast.
"If you continue your courageous path towards a permanent peace, and all the social and economic benefits that come with it, that won't just be good for you."
The president and U.K. Prime Minister David Cameron also visited an integrated primary school — one attended by both Catholic and Protestant children — near Enniskillen, where they helped students paint a G8 banner.

BET National News - Keep up to date with breaking news stories from around the nation, including headlines from the hip hop and entertainment world. Click here to subscribe to our newsletter. 
(Photo: Paul Faith - WPA Pool/Getty Images)