Q&A: Jasmine Guy Remembers "A Different World"
Jasmine Guy discusses life behind the scenes on "A Different World", playing Whitley Gilbert and current new entertainment projects.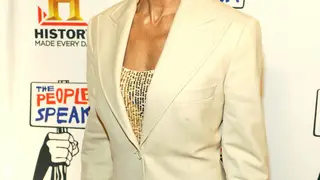 Actress Jasmine Guy could be seen recently on the TV series Drop Dead Diva and Vampire Diaries, but she's probably best known as Whitley Gilbert, a role she played for six seasons on A Different World. Since graduating from that modern comedy classic, the former Alvin Ailey dancer has kept busy as an author, stage actress—she appeared in Chicago—and director. Guy recently reminisced with BET.com about her TV college days on A Different World and caught us up with her many current projects.
It's been nearly twenty years since A Different World ended, why do you think it's such a timeless show? It answers a time in our life that very is transformative—those four to five college years. Like Happy Days was for so many people it's a turning point. We had very different characters on the show— medical students, free spirits— so at some point someone is saying something for you. So many people still come up tome today and say I went to school because of Whitley, because of A Different World. I knew we were funny, but I didn't know that what we were doing was important. I couldn't see that at that time.
The show handled topical and social themed issues very realistically. What were some of the episodes that stood out for you? We tackled date rape, apartheid, AIDS—that was a huge fight with the network. Mr. Cosby got involved and we had to get Whoopi Goldberg on that show to get it done. We did a show about abusive relationship in the later years when the younger cast members with Jada Pinkett Smith came on the show.  I think our heavier shows were our funnier shows—like the LA Riot episode. It was a comedy but all of our humor comes from reality. All the network cared about was Dwayne and Whitley. But [Different World director] Debbie [Allen] fought for those issue episodes. Those are the shows I'm most proud of because we were still funny.
A Different World always felt like two different shows. There was the first season with Lisa Bonet and then the Debbie Allen directed years. What was it like acting on the show that first year? Our first director Anne Beatts' version of A Different World was a black version of a show she created in the '80s called Square Pegs starring Sarah Jessica Parker. So it was not authentic and it didn't feel authentic. When I first auditioned for the Whitley Gilbert role I didn't even understand what a Black Southern belle was and I grew up in Atlanta. I  didn't know anybody like Whitley. But the whole show was like that. There were things culturally that were being ignored. A lot of the writing [that season]was floundering. I think the only thing that saved me and Kadeem [Hardison] is that our roles were so well defined. We were brought on to add humor to an already existing model the Lisa Bonet/Dawn Lewis/Marisa Tomei [starring ]triangle. I was the bitch to come in drop the bomb and leave and he was the boy to chase Lisa around campus.
What was it like working on set? The vibe on the set was pretty treacherous. There was a lot of animosity and division. And coming from New York and working with the best of the bitches, I knew how to navigate, avoid folks, or go to my dressing room. It was not a unified place to work, we were not lifted and we didn't have a voice. And I didn't feel the show was going to last past that first year. I was coming from New York and I didn't buy one thing during that time in L.A. I paid off my ex-boyfriend, my parents, and my American Express bill. I was prepared to be sent back home after those seven episodes.
When Lisa Bonet left, you became the star of the show. Do you think it would have been different if she stayed passed that first year? I was looking forward to working with the Denise character and Debbie. And I was disappointed when they took that character and put her back on The Cosby Show. I don't think Whitley or I would have suffered or been less if Denise would have been there. I think there would have been richer and other dynamics to play.
But that 'what if' could have changed the big Whitley-Dwayne romance on the show. In real life Kadeem was always like my little brother. We did School Daze together and we were always rooting for each other on A Different World with pep talks. So in the beginning when they put Whitley and Dwayne together I didn't understand the leap.  I had to really work on that. I remember doing the table reading where Whitley dreams about kissing Dwayne, and the character was freaked out. So was I. [laughs]
Today, in addition to your episodic TV work, you've been quite busy in theater. Tell us more about what you've been doing. Yes, I've moved to Atlanta and I've been there for almost two years now. I've been working with Kenny Leon and his True Colors Theatre Company. I did a production of For Colored Girls and Tyler Perry came to it, he brought Janet Jackson and it was a beautiful celebration. It was my first directing job on the stage and since then I've directed five or six productions, including Colored Museum. In May 2011, I will be acting in a Sam Shepard play called Fool For Love. I also teach drama at Spellman and next I'll be writing a play adaptation of the book I wrote on Tupac's mom, Afeni Shakur Evolution of a Revolutionary.
 (Photo: Larry Busacca/Getty Images)