Commentary: Chuck Hagel Mess Makes Susan Rice Look Smart
Looking at the way Chuck Hagel is being grilled for his cabinet nomination, Susan Rice is looking pretty smart for withdrawing her name from consideration to be secretary of state.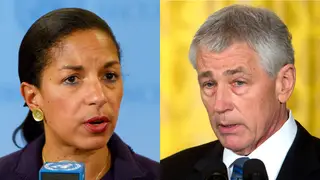 Hagel will still likely be confirmed, but his lackluster testimony may have exposed him as having been out of politics too long for the partisan climate that's taken over in the Obama era.

And by comparison, Rice — who'll continue to serve as U.S. ambassador to the United Nations — spared herself the indignity of being dressed-down on national TV by the same people who brought you the Iraq war, while avoiding what was shaping up to be a likely filibuster of her nomination and looking positively magnanimous for putting her own ambition aside and declining to be a punching bag for senators looking to take cheap shots at anyone on the Obama foreign policy team.

Because if McCain and Senate Republicans were willing to excoriate Hagel — himself once a Senate Republican and co-chair of McCain's 2000 presidential campaign — you can only imagine how they would have approached Rice, who's younger, a woman, has never been in Congress and is considered part of the president's inner circle.

When pointedly challenged by McCain about his opposition to the Iraq surge — the latter phase of the war that went better than the initial campaign — Hagel merely said, "I would defer to the judgment of history." And on the question of the war as a whole — which Hagel voted for, then turned against, all he had to offer was that it "doesn't mean I didn't make wrong votes."

Just as they teed off on Hagel in an effort to re-litigate — and somehow justify — the Iraq war, Rice would've been grilled over her clumsy, but mostly cosmetic, role in the aftermath of the attack on our consulate in Benghazi. And even though she, unlike Hagel, is one of the more hawkish members of Obama's brain trust, McCain, Sen. Lindsey Graham (McCain's de facto mini-me) and their colleagues likely would've insisted that Rice was "not very bright" and "not qualified" to be the nation's top diplomat — and she would have had to sit there and take it.

So Rice said to hell with it, and hats off to her. She saw the Hagel hearing coming a mile away.

And as the American Conservative's Daniel Larison wrote, Hagel played right into his critics' hands by being "remarkably ill-prepared for the avalanche of nonsense and irrelevant questions that he had to know the Republican committee members would direct at him." If he isn't up for a hearing with his former pals, how is he going to command the commanding generals for the next four years?

Partisan politics has become way too toxic for Obama to wind up with another Cabinet-level surrogate who's good "behind the scenes," but can't manage to articulate the administration's message when the cameras are on (think: Janet Napolitano and Eric Holder). If Hagel's confirmed, Obama can't afford for him to play the strong, silent type. With a painful withdrawal from Afghanistan, Syria's civil war, Iran's nuclear ambitions, and ongoing drone wars ahead — to say nothing of congressional fights over military budget cuts — Hagel's got to step up and figure out how he's going to speak into the microphone.

Rice, meanwhile, will keep running Obama's U.N. shop, might be National Security Adviser one of these days (the job doesn't require Senate confirmation), and comes out looking a lot more dignified — more diplomatic, you might even say — than her would-be Senate antagonists.

Hagel might want to take notes.
The opinions expressed here do not necessarily reflect those of BET Networks.

BET Politics - Your source for the latest news, photos and videos illuminating key issues and personalities in African-American political life, plus commentary from some of our liveliest voices.  Click here to subscribe to our newsletter. 
(Photos from left: XINHUA /LANDOV, AP Photo/Carolyn Kaster)