New Music Monday: Beyoncé, Lil Durk, Moneybagg Yo Start Your Week With A Fresh Batch Of New Tunes
Tune in every Monday to catch songs you need to add to your rotation.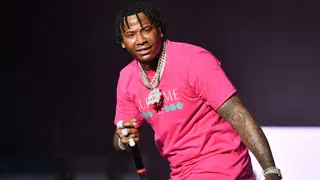 Keeping up with all the new music released each week is challenging. Something new comes out just as you start to fall in love with a particular song, album, or artist. Being a music fan today is enjoyable, but also challenging.
However, you can relax knowing that BET has you covered with our weekly New Music Mondays feature, which highlights some of the most recent performers, sounds, and trends in hip-hop, r&b, Afrobeat, house, and more. We offer a diverse selection of reputable artists and their latest work.
You'll discover a variety of well-known (and less-well-known) musicians and up-and-coming artists. So, without further ado, here are ten new records to start your week off with – led by Beyoncé, Lil Durk and Moneybagg Yo.
Beyoncé (feat. Kendrick Lamar): "AMERICA HAS A PROBLEM"

Last week, Beyoncé released the remix for her Renaissance song "AMERICA HAS A PROBLEM" and it features Kendrick Lamar!

Lil Durk (feat. Alicia Keys): "Therapy Session / Pelle Coat"

On Friday, Lil Durk released his new album Almost Healed and the Alicia Keys-featured single and video for "Therapy Session / Pelle Coat."

Moneybagg Yo: "Ocean Spray"

Moneybagg Yo released a new song/video "Ocean Spray" last week, which is off of his upcoming mixtape Hard To Love (out next week).

Kodak Black (feat. EST Gee & Lil Crix): "Dirt McGerk"

Kodak Black released his latest project Pistolz & Pearlz on Friday including the standout track "Dirt McGerk," featuring EST Gee and Lil Crix.

Jay Worthy & Roc Marciano: "The Plug"

On Friday, Jay Worthy and Roc Marciano released their joint album Nothing Bigger Than The Program and a video for the single "The Plug" earlier in the week.

Big Freedia: "Bigfoot"

Last week, Big Freedia announced her new album Central City and released "Bigfoot," the project's lead single.

$NOT: "Easter Pink"

$NOT released his new single "Easter Pink" on Friday. It's his first song drop since "VIVID" last November.

CNN Mikey: "FOR MY PEOPLE"

New Polo G signee and Toledo, Ohio artist CNN Mikey releases his ODA label debut single "FOR MY PEOPLE."

FMB DZ (feat. Babytron): "Level Up"

On Friday, FMB DZ released his new Babytron-assisted single "Level Up" off of his new project P-Rock Baby.

Tainted Tazz: "Hit List"

On Friday, Dallas' Tainted Tazz released her latest single "Hit List," the first song off of her debut project The Commencement.

Bonus Heat #UpAndComing: Check out Boogie3x's brand new song/video "Certified" (feat. P. Lee)

It's one of our new favorites!