New Music Monday: H.E.R., Summer Walker And KAYTRAMINÉ Start Your Week With A Fresh Batch Of New Tunes
Tune in every Monday to catch songs you need to add to your rotation.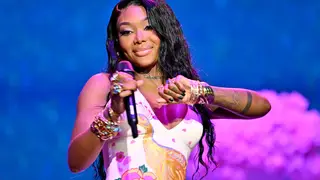 It's hard keeping up with all the new music released each week. Just when you've fallen in love with a certain song, album, or artist, something else drops. It's a fun time to be a music fan, sure, but also tricky.
Rest easy though, as BET has you covered with our weekly New Music Mondays post, featuring some of the latest artists, sounds, and trends in hip-hop, r&b, Afrobeat, house and more. We present an eclectic mix of established and up-and-coming artists for your listening pleasure.
You'll find an array of artists and emerging music. So, without further ado, here are ten new records that you should kick off your week with — led by H.E.R., Summer Walker and KAYTRAMINÉ.
H.E.R.: "The Journey"

Multi-platinum singer H.E.R. released a brand new single late last week with "The Journey" through the NBA Playoffs.

Summer Walker (feat. Childish Gambino): "New Type"

Summer Walker blessed her fans on Friday with a new EP called Clear 2: Soft Life, and on it, is the excellent track "New Type," featuring Childish Gambino.

KAYTRAMINÉ (KAYTRANADA + Animé) (feat. Snoop Dogg): "EYE"

KAYTRAMINÉ, the duo of KAYTRANADA and Animé dropped their new collaborative album on Friday, including the banger "EYE," featuring Snoop Dogg. 

Icewear Vezzo: "Back on Road"

Detroit's Icewear Vezzo drops a new single/video for "Back On Road" from his upcoming project Live From the 6 – a tribute to the place that made him.

aja monet: "why my love?"

Surrealist blues poet and organizer aja monet releases her new single from her upcoming album poems do what they do.

Eem Triplin: "Walked In"

Eem Triplin releases the latest single off his upcoming debut project, STILL EP with "Walked In."

DDG (feat. Luh Tyler): "I'm Geekin"

DDG enlists Luh Tyler for the remix of "I'm Geekin."

Kenny Muney: "AOGG"

On Friday, Paper Route Empire rapper Kenny Muney shared the deluxe version of his recent mixtape Blue Muney, which features the Tay Keith-produced song "AOGG."

Maeta (feat. Free Nationals): "Through The Night"

Maeta collabs with Free Nationals for their new song "Through The Night," which dropped on Friday. 

Matt Ox (feat. Surf Gang): "Real Rage"

Matt Ox enlists Surf Gang for his new video "Real Rage" off their collaboration project OXygen.

Bonus Heat #UpAndComing: Check out Chxrry22's brand new song/video "Worlds Away"

Toronto-based emerging artist releases a new single for "Worlds Away." It's one of our new favorites!