T.I. Just Scalped Donald Trump for His Tweet About Snoop Dogg
And Savage of the Year goes to...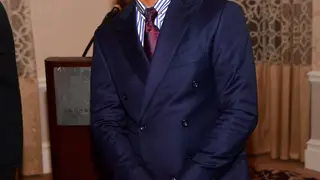 Donald Trump's tangerine tirades, also known as his personal Twitter rants, have become a rather disappointing staple of his presidency.   
But after his recent 140 characters stretched into hip-hop territory by calling out Snoop Dogg, T.I. just executive-ordered Trump back into his place in the most hilarious and merciless fashion hip-hop fans could hope for.
Posting Trump's Snoop-bashing tweet to his Instagram, Tip penned a lengthy caption for the former reality television star complete with a NSFW side of anti-Trump sentiment. From a calling him a "tangerine-tanned muskrat" to insulting his "puppy piss smelling a** mouth," the King of the South unleashed a ruthless address set for an Oval Office delivery.
"[Snoop Dogg] is a f**king legend, you f**king Tangerine-Tanned Muskrat, scrotum skin, lacefront-possum fur wig-wearing, alternative fact, atomic dog diarrhea face-a** man!," he fired back at Trump. The blast comes as a return shot to Trump's previous tweet where he deems a "failing career" for Snoop following the Long Beach-bred rap star's "Lavender" video. Trump's disapproval with a scene where a clown-faced imitation of him, fittingly named "Ronald Krump," is shot at by a pistol. Instead of a bullet being shot, however, a "Bang!" sign is released.
After Trump caught wind of the visuals and expressed his dismay via Twitter, he hinted at the unfairness that had such a display been an attack on President Barack Obama, Snoop would be facing jail time. His disdain toward the video, however, is the last thing Tip was concerned with, as he ordered Trump to leave the good name of hip-hop off of his Twitter timeline.
"Leave our legends names out ya f**king old a**, puppy piss smelling a** mouth, and continue to focus on dividing minorities, building barriers, alienating immigrants and f**king this country up like you've been doing. #UWannaBeDictator #PresidentialLevelF**kBoy."
Trump's next order of presidential business may need to send in the toupee troops to locate that hairpiece after this one.
See Tip's direct address to Trump below.