Blac Chyna Makes A Major Decision In Her Custody War With Rob Kardashian
The drama finally reached a breaking point.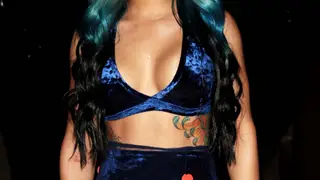 Rob Kardashian and Blac Chyna are in the middle of a nasty custody war. Each side has accused the other of drugs, violence and being an unfit parent. They are both under investigation by child protective services, which could result in both of them losing custody of 10-month-old Dream. But now it looks like the reality show stars have finally made an arrangement.
According to TMZ, Rob and Chyna will split custody of dream. In addition, Rob will give Chyna $20k a month in child support, under one condition — she must drop the domestic violence allegations. Blac Chyna was granted a restraining order against Kardashian after he posted nude photos and accused her of drug abuse in a social media rant back in July. Money talks for Chyna, she reportedly agreed. But there was still some shade thrown, TMZ claims, "We're told Rob is concerned about Chyna's parenting. Sources say she left Dream at home this weekend while she left to party, and he wants to make sure there are enough nannies to protect the kid."
Could this possibly be the end to the Rob and Chyna saga? We doubt it. These two love the drama and the press. 
See more Kardashian drama with BET Breaks, above.