Study: Number Of Senate Top Black Staffers Declines
These staffers who have a vital role in policymaking are largely missing from the process.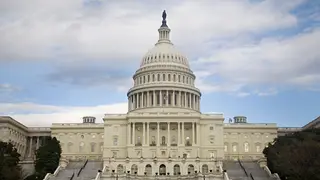 Top U.S. Senate staffers who help shape public policies are a lily-white group that lacks diversity. In fact, the percentage of top Black staffers has decreased in recent years.
People of color comprise less than 16 percent of all top Senate staffers even though they represent 41 percent of the nation's population, according to a study released Wednesday (Oct. 18) from the Joint Center for Political and Economic Studies, The Hill reports.
Diversity rose slightly in the past three years - but not for top Black staffers.
Staffers of color increased from 11 percent to 15.8 percent between 2020 and 2023. However, researchers found a decrease from 3.1 percent to 2.1 percent for Black staffers.
All top Black staff hired in January 2020 were gone by June 2023.
"I want voters to know that their member of Congress, their senator, is only one person and so they can only do so much. They really rely on a team of experts — that is their staff — to help them get the job done right," LaShonda Brenson, senior researcher at the Joint Center, told The Hill.
"Having a diverse staff really pushes them and opens them up to different experiences that they may not have, and that can really help to inform the senator how to vote on an issue and help us to get policies that are reflective of Americans in terms of their needs and interests."
There are 100 chiefs of staff in the Senate. Here is the current racial and ethnic breakdown: eight Latinos, three Asian American Pacific Islanders, two biracial, one Middle Eastern and North African, one African American and one Native American.
Brenson blamed two factors for the low percentage and decline of top Black staffers: hiring practices and lack of retention. She said Senate offices tend not to promote Black staff to top posts, leaving them to seek higher-level positions in other legislative offices.
Democratic offices, though more diverse than Republican offices, came up short. Staffers of color accounted for only 24 percent of Democratic top staffers but comprised 36 percent of Democratic voters.
The numbers were worse for Democratic Black staffers. They represented just 4 percent of staffers in Democratic offices even though they account for 17 percent of registered Democratic voters.
The diversity situation was slightly better in the House of Representatives. The Joint Center's 2022 analysis of House diversity found that people of color occupied 18 percent of the top staff positions, Roll Call reported last year, a 4 percent increase from 2018.
That study found that Congressional Black Caucus members hired 80 percent of Black staff directors to full House committees. By comparison, White Democrats hired 3.2 percent of top Black staffers, and White Republicans hired only 1.1 percent.