Deion Sanders Demands Players' Be Reimbursed Following Rose Bowl Theft
The University of Colorado football coach claimed that money and jewelry were missing from his team's locker room after playing against UCLA on October 28.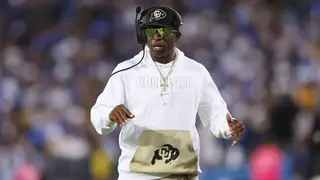 University of Colorado head football coach Deion Sanders is imploring the NCAA to launch an investigation after his players and staff were robbed of their personal items at the Rose Bowl following their 28-16 loss to UCLA on Saturday night (October 28), USA Today reports.
According to "Coach Prime" several members of his team were missing cash and jewelry that was put away in their locker room and will make a list of missing items hoping for reimbursement with Sanders suggesting that the Rose Bowl pay for the losses that his team suffered.
"Who robs the Rose Bowl?" Sanders asked during his weekly news conference on Tuesday (October 31)."NCAA, you do something about everything else. Do something about this one."
"All that stuff should be replaced," Sanders continued. "This is the Rose Bowl. It's at the granddaddy of them all, right? I'm sure grandaddy has some money. Grandpa should have some money to give these kids. I'm gonna have a list made out from these young men, and I know they're gonna be truthful about what they lost so we can try to get that back for them. They may not be able to get the items back, but we should be able to reimburse them."
While the NCAA declined comment on the incident, on Tuesday (October 31) Lisa Derderian, a Pasadena public information officer said it was "only the Colorado locker room and players" who reported missing items after the game.
On Monday (October 30), Bruins officials confirmed that a complaint was filed with the Pasadena Police Department about items that were allegedly stolen from the Buffaloes' locker room.
Following the incident, Sanders said that his squad would not rely on "someone else's security" to protect their belongings and added that his players did not have insurance on their items,
"The insurance part of it, we slipped, and we didn't really educate them on that," Sanders said.
Sanders also had words for the "idiots online" who blamed the victims of the theft for bringing jewelry to the game.
"That's crazy," Sanders argued. "That's like if you have a car in your driveway and somebody comes and steals your car. (Critics might say,) 'well, you shouldn't have a car.' That's how stupid that sounds. These are young men that work their butts off or they were blessed and gifted by their family members to give them whatever was stolen."
The Buffaloes (4-4) next opponent is the No. 19 Oregon State (6-2) Saturday night (Nov. 1) on ESPN.