CNN Anchor Don Lemon to Return to the Air This Wednesday
Lemon said presidential candidate Nikki Haley was "not in her prime" and was taken off the air.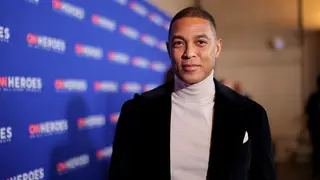 Don Lemon will return to the CNN anchor chair this Wednesday after being suspended for sexist comments. He will be required to complete training upon his return, according to CNN CEO Chris Licht, who sent an email to employees on Monday explaining the situation.
Licht wrote in a memo, "I sat down with Don and had a frank and meaningful conversation. He has agreed to participate in formal training, as well as continuing to listen and learn. We take this situation very seriously."
During Friday's daily editorial meeting, Lemon apologized to staff for his comments during a Feb. 16 discussion on "CNN This Morning", which caused backlash both inside and outside of the media organization. Lemon's comments came during a discussion about South Carolina Gov. Nikki Haley's announcement that she would run for president.
Talk turned to Haley's request that all politicians over the age of 75 be given a test of their mental health. Lemon said that Haley, 51, "isn't in her prime."
Co-hosts Poppy Harlow and Kaitlan Collins called out Lemon's remarks, but he didn't back down and restated his position in the next hour's segment by explaining that a woman is only "considered to be in their prime in 20s and 30s and maybe 40s."
Later in the day, Haley joined the Twitter conversation regarding Lemon's statements by criticizing his comments and capitalizing on them to raise money for her campaign.
Licht addressed Lemon's comments during the editorial meeting, stating that he received feedback from several employees. He said that Lemon was "unfair to his co-hosts" and that his remarks were "unacceptable."
"It is important to me that CNN balances accountability with... fostering a culture in which people can own, learn and grow from their mistakes," Licht said.
When asked about his attitude toward making blunders, Lemon told staff members that he takes responsibility. "When I make a mistake, I own it," Lemon said. "And I own this one as well."
Lemon expressed his appreciation to Licht for allowing him to speak to his fellow staff members directly and stated that he wanted to be "really clear" about his regret for his remarks.
"I believe that women of any age can do whatever they set their minds to," Lemon said.