Outrage Over NFL's Decision to Put White Player on Paid Leave After Domestic Violence
Has the Giants kicker been treated differently than Black players?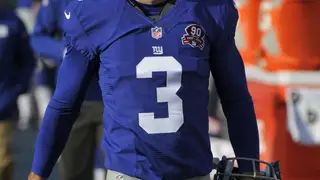 The treatment of former New York Giants kicker Josh Brown, who was put on the commissioner's exempt list after admitting to domestic violence in letters, emails, and his personal journal, has sparked outrage within the NFL community and on Twitter for revealing a shocking double standard for the way white players and Black players are treated by the organization.
While the exempt list may sound like a just punishment, it will allow Brown to collect his base salary of nearly $1.5 million despite his own admission to the egregious crimes. Another NFL star, Torrey Smith, is now calling out the hypocrisy within the league that fines players for celebrating touchdowns, but will allow abusive husbands to continue cashing checks.
Others are questioning another kind of hypocrisy, accusing the NFL of giving Brown a lighter punishment because he is white.
Smith took to Twitter to air out his grievances with the NFL and its clearly warped sense of crime and punishment.
Smith went further to explain why he feels so passionately about domestic violence in the NFL.
Smith was far from the only person, or NFL player, to tweet about the most recent mishandling of a domestic violence incident by the NFL. Some commented on the difference of punishment between on-the-field infractions, and domstic violence cases, while others wondered if race was an issue.
While Brown is on the exempt list, players like Ray Rice, and Greg Hardy were given unpaid suspensions. Like Brown, Adrian Peterson, was also put on the commissioner's exempt list, after evidence of corporal punishment against his 4-year-old son was discovered.
It's clear that while the NFL has continued to fail to take domestic violence seriously, its fans, and several of its stars, are beginning to speak out. 
The NFL must ensure that more will be done to punish those who are guilty of these serious crimes. More importantly, still, the league has to being targeting this problem at the source to ensure that its players no longer believe that harming women and children is an extension of the violence on the field.