Protesters Take to City Hall, Claim Cover Up in Laquan McDonald's Death
Cops deny erasing video footage, Rev. Jesse Jackson calls for resignations and a Justice Department investigation.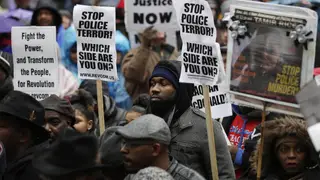 Laquan McDonald finally got a shred of justice last week when Jason Van Dyke, the Chicago police officer who shot the 17-year-old sixteen times last October, was charged with first degree murder. But protesters gathered outside of City Hall this weekend want to know what took so long.
A few dozen activists carried a coffin and chanted "no more bloodshed" and "16 shots and a cover-up." They questioned why there was no audio on the police dash cam video that captured the shooting and also allege that Chicago Police deleted relevant security camera footage from a nearby Burger King.
Police officials have denied the charge, despite the restaurant's manager saying that 86 minutes of video was missing after he handed it over to cops.
The exisiting footage was enough, however, for protesters to shut down Michigan Avenue, along the city's strip of designer stores known as The Magnificent Mile. Approximately 2,000 showed in solidarity on Black Friday.
"City Hall is where this needs to be because this is where the cover-up took place," one protester, Tio Hardiman told CBS News. "Mayor Rahm Emanuel and Police Supt. Garry McCarthy covered up this execution."
Rev. Jesse Jackson, also part of the protests, is calling for the resignation of the police superintendant and top prosecutor, claiming that the $5 million paid to McDonald's family as a settlement was "hush money." He is looking to the Justice Department to investigate.
(Photo: Joshua Lott/Getty Images)
BET National News - Keep up to date with breaking news stories from around the nation, including headlines from the hip hop and entertainment world.