Chrisette Michele Claps Back at Spike Lee With Two Simple Words
The filmmaker put her on blast over her decision to sing at Trump's inauguration.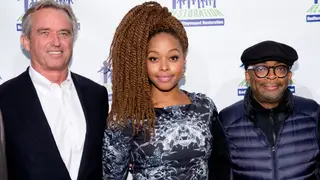 It's safe to say Chrisette Michele and Spike Lee won't be collaborating anytime soon.
The two artists are at "war" after the legendary filmmaker took a swipe at the singer over her decision to perform at Donald Trump's inauguration. Turns out, Chrisette lost out on a gig in the latest Spike Lee Joint — a Netflix reboot of his movie She's Gotta Have It — for co-signing the controversial new president, and Spike decided to announce to the world that she's canceled.
Well, Chrisette didn't take kindly to the public slight, and decided she now has zero f*cks to give about Spike Lee.
It all started when Spike decided to trash Chrisette in public a couple of days ago.  "I Wuz Sorry To Read That 'Sistuh Girl' Is Singin' At DT's Inauguration (And To Use His Fav Word-SAD)," he wrote. "I Wuz Thinkin' 'bout Using Chrisette's Song- BLACK GIRL MAGIC In My Netflix Series SHE'S GOTTA HAVE IT.... NOT ANYMORE. And Dat's Da Truth, Ruth."

With backup from her man, Chrisette responded with a simple message. She retweeted an "open letter" from her fiancé that has only two words, but makes her point very, very clear:

Oh, and for those who don't know who Jean-Michel Basquiat is, she wants you to do your Googles. Though what the painter has to do with this drama isn't quite clear.

But wait, there's more! Lil Mo, who has been Team Chrisette from the start and read Spike for the filth on her radio show, jumped back in to the feud and offered to fight Spike on Chrisette's behalf. She even calls for Floyd Mayweather and 50 Cent to promote the smackdown.

Spike, meanwhile, looks like he's trying to just walk away from the mess he created. The filmmaker, who attended yesterday's Women's March in NYC, tweeted this just after midnight:

While a fight between Spike and Lil Mo would be...interesting...it's probably best this beef just ends right here.