Hold Up: Why Are Will and Jada Dragged Into Duane and Tisha Martin's Bankruptcy?
This may be surprising.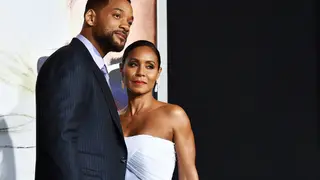 While Tisha Campbell-Martin and her husband, Duane, have made headlines for the past few months in regard to their bankruptcy filing, their besties are now being dragged into the mix. According to the Daily Mail, Will and Jada Pinkett-Smith are now linked to the case for helping their friends.
According to the court documents, the Martins' 7,000-plus square-foot home was transferred to another family member's name. All of the money used in the transfer, however, was funded by their famous friends Will and Jada.
The documents further showed that, in late 2014, Duane and Tisha carried out a short sale with their mortgage lender where a new LLC known as Roxe LLC — owned by the Real Husbands of Hollywood actor's brother Michael, as well as Derek Folk, the couple's tax preparer — adopted the title to their home.
This short sale price was funded entirely by a third party known as Treyball, which was later found to be owned by Will and Jada.
Following the deal, the Martins prepaid monthly rents to the landlord, Roxe LLC, even though they were not contractually obligated to do so. This is where the discrepancy comes into play — the trustee overseeing the case claims the couple transferred the title to Roxe LLC because they knew they were filing for bankruptcy and wanted to save their home from being sold off to repay creditors.
Tisha and Duane filed for Chapter 7 bankruptcy on January 7, owing more than $15,145,387 in liabilities to creditors.
Get the rundown on the Martins' bankruptcy in the BET Breaks video, above.
BET.com is your No. 1 source for Black celebrity news, photos, exclusive videos and all the latest in the world of hip hop and R&B music.