Chrissy Teigen Opens Up About Her IVF Journey: 'I Feel So Much Healthier'
The busy mom also spoke about her sobriety journey.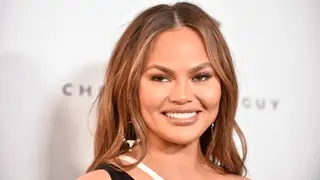 Chrissy Teigen is experiencing a lifestyle change. The busy mom recently spoke to Entertainment Tonight about her sobriety journey, along with her successful IVF treatments. Keep scrolling to hear what she had to say!
While on the red carpet of the 7th annual Hollywood Beauty Awards on Saturday, Teigen revealed the exciting news that she's one step closer to having another child with husband John Legend.
"Everything is good. I finished my IVF part, so I feel so much healthier and so much better with that," the loving mom shared about her in-vitro fertilization journey.
It was just last month when Teigen took to Instagram to reveal to fans that she was in the egg retrieval process. The IVF news came a little over a year after Teigen suffered the pregnancy loss of her third baby, son Jack.
"I posted about it in my stories, but I wanted to let you guys know I'm balls deep in another IVF cycle to save as many eggos as I possibly can and hopefully make some strong, healthy embryos," she explained in a lengthy Instagram post. "I honestly don't mind the shots…they make me feel like a doctor/chemist…but the bloating is a b****."
She continued, "I humbly beg you to stop asking if I'm pregnant because while I know it's said with excited, good intentions, it just kind of sucks to hear because I am the opposite of pregnant!"
As for her sobriety, Teigen says she hasn't indulged in a drink for 8 months, even with the pressures of award season. She explained, "These things are very weird for me because I'm so used to getting so hammered at these things. Awards season, I very much connect to enjoying yourself and having champagne, but I also connected with those feelings of immense regret or stupid moments."
She playfully added, she's happy not to have regrets after drinking too much. "It's so nice not to have those feelings anymore," she insisted.
We wish the Legend family best wishes on their pregnancy journey.
Chrissy Teigen Reveals She's Undergoing Fertility Treatments After Her Pregnancy Loss Of Son Jack