Style And Swagger: 10 Artists Influenced By The Musicality Of Prince
From Alicia Keys and Bruno Mars to Janelle Monáe and The Weeknd, these musicians wouldn't sound the same without the brilliance of the man whose posthumous album, "Welcome 2 America," is now available.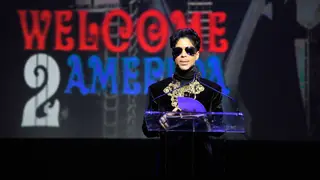 Few artists are as well regarded among fans and contemporaries as Prince Rogers Nelson was and still is. In fact, according to Guitar.com, Prince is the most searched for guitar soloist of all time. That is pretty understandable if you have seen any of his performances of "Purple Rain," "Let's Go Crazy" or "Guitar."
And CBS reports that the music legend was still selling more albums than any other living musician at the time of his death in 2016. Prince seemingly was always trying to outdo Prince, and in doing so, he reportedly accumulated thousands of songs that now lie in wait to be released from his vault. "I make records all the time, you know there is tons of stuff in the vault, and we'll see they'll come out one of these days," Prince can be heard saying on the first episode of season four of the Prince Official Podcast.
As much as we love Prince here at BET.com, we know that we are not alone. There are some of the best musicians who not only respect him but also have made it clear that his musicianship, his sound, his style has all influenced them in various aspects of their career as artists.
Check out these 10 multi-faceted musicians who have been inspired by the man with the magical purple touch.
 
Alicia Keys

Before helping to induct Prince into the Rock and Roll Hall of Fame in 2004, Alicia Keys also covered his song "How Come You Don't Call Me Anymore" on her first album, Songs in A Minor. "Because of him, I never wanted to be anyone else but myself. Because of his music, my music has wings to be different. He's the inspiration that generations will return to until the end of time," said Keys during the induction ceremony.

H.E.R.

During an interview with the NY Times, the Grammy and Oscar-winning performer who recently wore a purple outfit inspired by the legendary musician to the Academy Awards spoke about her inspirations. One of them was Prince and specifically his concert video "Rave Un2 the Year 2000," which she says was on every weekend in her house. "The moment with him and Lenny Kravitz performing — they did "American Woman" and "Fly Away" together — I was just so, like, "Man, I want to be a rockstar.

Bruno Mars

Though it can't be denied that Bruno Mars is a superstar songwriter, singer, and musician in his own right, it is evident that the "Leave The Door Open" crooner embodies some of Prince's swag. But you don't need to take our word for it as he posted the following message on his Instagram on the day Prince passed in 2016.

"Prince you're one of my Heroes and no one can tell me otherwise, not even you. I'm so fortunate to have witnessed your greatness. Your music will live on forever and ever and will always have a special place in my heart. Thank You." This was in response to a message from the purple one, which reads, "Bruno – may your only heroes be God and yourself – peace and be wild.

Janelle Monáe

Janelle Monáe has never been shy about her love and appreciation for the prolific musician. In fact, if you listen to her Dirty Computer album, the track "American," showcases moments when it sounds eerily like "Let's Go Crazy." According to Billboard, the actress and singer says that she took a break from music after news of Prince's passing.

"This was the person that I would literally call and talk to about sounds or: 'How should I say this? Is this saying too much?' I just never could imagine a time where I couldn't pick up the phone or email him, and he'd contact me right back and we'd talk about all these things that I was unsure of," she said to the New York Times Magazine in 2019.

The Weeknd

In one of Prince's last television appearances, he presented The Weeknd with an award at the 2015 American Music Awards for Best R&B Soul Album for Beauty Behind the Madness. And when he won Best Soul/R&B Album in Nov. 2020, he referenced that encounter from five years before, saying, "Last time I received this award, it was given to me by the late, great Prince. He's the reason I get to constantly challenge the genre of R&B, and I'd like to dedicate this award to him. Thank you."

D'Angelo

You only need to watch D'Angelo's performance of "Sometimes It Snows in April," his tribute to Prince shortly after his death, to know how much the late singer means to him. And according to Ultimate Prince, when the "Brown Sugar" singer launched his Sonos radio channel, Feverish Fantazmagoria, he spoke about what it was like meeting Prince.

"Honestly, I felt very comfortable around him," said D'Angelo. "I felt like I knew him very well. I've been studying him all my life. And when I met him, I felt like I'd lived my life for that moment. I had trained — I had done everything I had done — for that moment."
 

Justin Timberlake

If you blink, you may miss Justin Timberlake's dedication to Prince at the end of his Netflix concert Justin Timberlake + The Tennessee Kids. Upon the passing of the musical icon, the "SexyBack" singer wrote, "They say don't meet your idols... That they let you down. But, some of my greatest, funniest (yes, he was hilarious), and most prolific encounters and conversations about music came from the moments that I spent with him. It would be silly to say that he has inspired our music... It's beyond that. He's somewhere within every song I've ever written."

Andre 3000

As a member of the group Outkast, Andre 3000 stood next to Alicia Keys as the music legend was inducted into the Rock and Roll Hall of Fame. At the time, he said, "What Prince brings to the stage for me as an entertainer is how he inspires me; back in the day, entertainers were singers, they were dancers, they had great style, they had great personalities, and I think we've lost a lot of that today. So, when it comes for me to do music as an inspiration, Prince is most definitely one of my greatest inspirations."

Beck

There is no doubt that his Royal Badness has influenced musician Beck. You need only listen to his track "Debra," off his Midnight Vultures album to hear echoes of Prince. In 2019 Beck recorded an EP at the legendary studio aptly named Paisley Park Sessions. In a promotional video, he offers up his feelings for Prince. "He's a big influence for me; he's an inspiration," says Beck. "His musicality, but also playfulness, and the way he performed was really something that I connected with."

Sheila E.

It's not that we wanted to save the best for last, but how can you talk about Prince and not talk about Sheila E. Though she was already making her way as a percussionist, many of us came to know her from the "Glamorous Life," a song written by Prince, which might be her biggest hit. While the liner notes of the album of the same name reads, directed by Sheila E. and The Starr Company," It was apparent that Prince had much to do with the project. That became abundantly clear from the original recording of him singing the song prior to the release of her version.

Watching them perform together was electrifying, and though she wasn't a novice when they met, the singer admits their relationship was a two-way street. In a 2014 interview with Time magazine, she confirmed, "I think we influenced each other. I influenced him the same way he influenced me. When he came back to the Bay Area, I introduced him to my family, and he got to see me play with my family, with my dad, and play Latin jazz music, and he'd never heard it before. He was like, 'This is just crazy. This is amazing.' He loved it. We mentored each other, if you want to look at it that way. That's the good thing about Prince: you can see how he was influenced by the people around him."