'Karl Lagerfeld: A Line of Beauty' To Be 2023 MET Gala Theme
Lagerfeld's legacy will also be celebrated for The Metropolitan Museum of Art's Spring 2023 Costume Institute Exhibition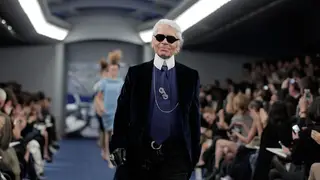 Fashion's biggest night has an ambitious dress code, "In honor of Karl," which is a nod to the "Karl Lagerfeld: A Line of Beauty" Spring 2023 Costume Institute Exhibition at the Metropolitan Museum of Art. The MET Gala is an annual event that benefits the Metropolitan Museum of Art's Costume Institute. It draws some of the biggest celebrities in the world dressed in their most extravagant couture designs.
According to PEOPLE, the exhibition will showcase approximately 150 of Lagerfeld's greatest outfits spanning his 60-year career, including designs he made while working for brands like Balmain, Patou, Chloé, Fendi, Chanel, and his eponymous label.
Andrew Bolton, the Costume Institute's Wendy Yu Curator in Charge, and longtime Lagerfeld collaborator Amanda Harlech, the exhibition's creative consultant, will be tasked with curating the exhibit, according to Vogue.
"So at its heart, the exhibition will look at the evolution of Karl's two-dimensional drawings into three-dimensional garments," Bolton told Vogue. He wasn't fascinated to learn that his drawings were "extremely precise, almost mathematical" as opposed to — what he thought was — "very spontaneous and almost impressionistic."
Celebrities will undoubtedly shine on the red carpet as the theme allows for looks that honor Lagerfeld from one of the many labels Lagerfeld led. Vogue editor's write, "The first, most authentic approach would be to wear an archival look from one of the labels Lagerfeld led; the second would be to sport modern-day Chanel or Fendi, two houses on which Lagerfeld left an indelible impression."
This year's MET Gala is Monday, May 1, and the 2023 co-chairs are prominent figures in music, sports, movies, and television, each having just had a monumental year in their lives.
This year's co-chairs are Penélope Cruz, Roger Federer, Dua Lipa, Wakanda Forever star--Michaela Coel. Their roles range from helping to put together the massive guest list to working with top chefs to create the specific menu (which is often aligned with each year's theme).