Here's the One Thing Bill Cosby Didn't Lose in His Sex Scandal
The TV icon can hold on to a piece of his legacy.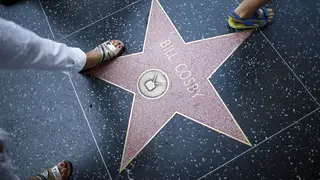 Bill Cosby has spent the last year watching his legacy erode in front of his eyes, and today the TV icon was arraigned on criminal charges for sexual assault. But while he's lost all his endorsement deals, honorary degrees and career opportunities, he will be able to hold on to one piece of glory: his star on the Hollywood Walk of Fame.
Asked by Variety if there are plans to remove the star from L.A.'s historic Hollywood Boulevard, Leron Gubler, Hollywood Chamber of Commerce president and CEO, replied, "the answer is no."
He continued, "Once a star has been added to the Walk, it is considered a part of the historic fabric of the Hollywood Walk of Fame. Because of this, we have never removed a star from the Walk." Stating that a celebrity's "politics, philosophy, irrational behavior, outrageous remarks or anything like that" have never lead to an eviction from the Walk of Fame before, Gubler reiterated that the honor is meant only to mark professional achievements in the entertainment field.
Cosby was arraigned on criminal charges for sexual assault on Wednesday afternoon, stemming from an alleged 2004 attack on Temple University employee Andrea Constand. The actor was released on $1 million bail until trial, and his lawyers quickly denounced the charge as "unjustified" and vowed that the comedian would be "exonerated by a court of law."
(Photo: AP Photo/Matt Rourke)

BET.com is your No. 1 source for Black celebrity news, photos, exclusive videos and all the latest in the world of hip hop and R&B music.