Black And Streaming Vol 4.: What Watch This Week On BET+ And More!
Check out what is available to stream for the month of January 2023.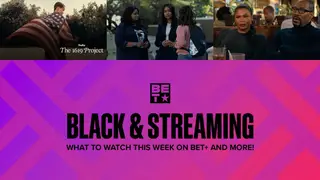 Black shows and movies are coming in hot now that 2023 has started and whether you are cozied ready to stream your favorite BET+ shows and movies or binge-watch the latest projects on AppleTV+ Lifetime, Netflix Hulu and more! BET.com has you covered on what to tune into and what is coming up that you need to get your watch parties ready for!
Here is Vol. 4 of our Black and Streaming list for what is available to stream for the month of January.
Imani

This drama-thriller follows mother and wife, Faith, after a year of what she believes was a car accident, until she later discovers that she is an Army Special Ops lieutenant with classified information.

Cast: Stephen Bishop, Demetrius Shipp Jr., Brittany Hall

Currently streaming on BET+.

I Got Problemz

This drama-comedy follows a genius with no money, no job and no street smarts, but it turns out that's the least of his problems.

Cast: Edward Williams III, Jermel Howard, Robert Crayton, Thea Camara

Currently streaming on BET+.

Soulmates

In this drama thriller/horror, two unsuspecting strangers must find their way out of a nightmarish maze where they are forced to get into as part of a twisted new dating service created to help them find their soulmate.

Cast: Charlie Weber and Annie IIonzeh

Premieres on BET+ on 1/26.

Truth Be Told

Season 3 of this NAACP Image Award-winning series will pick up with Octavia Spencer reprising her role as investigative reporter turned true crime podcaster (Poppy), to take on a new case as she is frustrated by the lack of media attention for several young missing Black girls.

Cast: Gabrielle Union, Mekhi Phifer, David Lyons, Ron Cephas Jones, Merle Dandridge, Tracie Thoms, Haneefah Wood, Mychala Faith Lee and Tami Roman

Currently streaming on AppleTV+.

The 1619 Project

The six-part docuseries from host Nikole Hannah-Jones and the New York Times Magazine, continue their journey to "reframe" American history and place "the consequences of slavery and the contributions of Black Americans at the very center of the United States' national narrative."

Premieres on Hulu on 1/26.

You People

After a new couple learns that opposites attract things take a turn when their families meet and they find themselves confronting their parent's clashing views on their relationship.

Cast: Jonah Hill, Lauren London, Nia Long, Eddie Murphy, Sam Jay, Kenya Barris and others.

Premieres on Netflix on 1/27.

Shotgun Wedding

This film follows Jennifer Lopez's Darcy and Josh Duhamel's Tom as they bring their families for a destination wedding before the romantic ceremony gets put on hold when pirates hold every one on the island hostage.

Cast: Lenny Kravitz, Jennifer Coolidge, Cheech Marin, Callie Hernandez, Sônia Braga. 

Premieres on Prime Video on 1/27.