Isaiah Thomas to Attend Sister's Funeral After Game 6 of The Celtics-Bulls Series
The All-Star point guard's team could move on in the playoffs with a win tonight.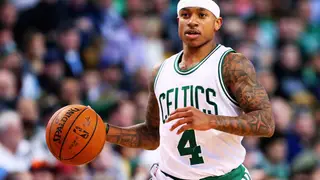 It's only getting harder for Isaiah Thomas.
According to the Boston Globe, the All-Star point guard will fly home to Washington to attend the Saturday funeral of his sister following his Boston Celtics' Game 6 against the Chicago Bulls tonight.
If the Celtics, who battled back to take a 3-2 lead in the opening-round NBA playoff series, can't close out the Bulls tonight in Chicago, then Thomas would attend his sister's funeral Saturday and be back in Boston for a deciding Game 7 on Sunday.
Thomas's sister, Chyna, died in a one-vehicle car accident in Washington one day before the Eastern Conference top-seeded Celtics started their playoff series against the Bulls. She was 22. Thomas unbelievably managed to score 33 points in that Game 1 loss and has averaged 25.2 points, 5.6 assists and 4.2 rebounds per game over the series thus far.
"Mentally and emotionally, I'm not here, so I just feed off what the guys give me," Thomas said at the postgame press conference podium following Game 4. "[My teammates] give me a lot of confidence. I can't do it without those guys. They believe in me. Being here is what makes me, I guess, sane. It makes me feel somewhat normal through these tough times."
BET Sports News — Get the latest news and information about African-Americans in sports, including weekly recaps, celebrity news and photos of your favorite Black athletes.