Hip Hop Awards 2022: See These Past 'Video Director of the Year' Winners Raise the Bar with Mind Bending Visuals
These winners are behind the biggest music videos in the last decade.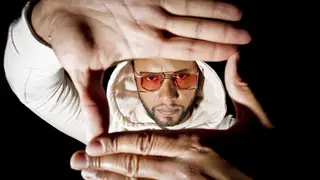 While it may not seem like it nowadays, music videos are just as important as the songs themselves. There have been dozens of examples of musical releases that have only propelled their artist further into fame thanks to an extravagant visual. These one-of-a-kind mini movies have been brought to viewers by a class of legendary directors like Hype Williams, Director X, and many more, who have worked with some of the industry's biggest stars to create some of the most iconic music videos ever seen.
As we gear up for the 2022 BET Hip Hop Awards, we're taking a look back at some of the biggest winners of the year's past, including past "Video Director of the Year" winners who raised the bar every time with mind-bending visuals. Take a look below, and don't forget to tune into the 2022 BET Hip Hop Awards airing Tuesday, October 4, at 9 PM ET/PT on BET.
Travis Scott '19

Rapper Travis Scott has also tested the limits of what a hip-hop music video should look like with releases such as "HIGHEST IN THE ROOM," "Antidote," and "SICKO MODE," featuring Drake, the latter of which he co-directed with legendary filmmakers Dave Meyers. As of August 2022, the video has earned over one billion views on YouTube. Travis's contributions earned him the "Video Director of the Year" trophy at the 2019 BET Hip Hop Awards.

Hype Williams '14

Musical genius Kanye West enlisted industry veteran Hype Williams for the music video behind his 2011 single "All Of The Lights," featuring Rihanna and Kid Cudi off the rapper's fifth studio album. The visual features strobe-lit images of all three performers and references Gaspar Noé's 2009 film Enter the Void. An alternate version of the video had to be released after it was reported that the video was causing seizures in epileptic viewers. It featured a discretionary warning that the video "potentially trigger[s] seizures for people with photosensitive epilepsy." In 2014 Williams directed several notable projects, including Jennifer Lopez's "Booty" featuring Iggy Azalea. That same year he won "Video Director of the Year" at the BET Hip Hop Awards.

Director X '16

Canadian filmmaker Director X took home the 2016 BET Hip Hop Awards on the heels of what had already been an impressive year of releases for the creative following the debut of Rihanna's "Work" visual featuring Drake. X had just finished working with the Canadian rapper for his viral    "Hotline Bling." The song The video was inspired by Sean Paul's "Gimme The Light" clip currently has 1.8 billion views on YouTube, the lead single from his fourth studio album, Views which was released in 2016.

Watch the Hip Hop Awards on  Tuesday, October 4, at 9 PM ET/PT on BET