Hollywood Stands Against R. Kelly For #MuteRKelly Campaign
Celebrities from every corner of Hollywood are speaking out.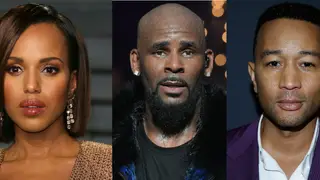 Just one day after R. Kelly issued a statement to defend himself against the months-long wave of sex cult allegations, a new movement has emerged with demands against the R&B singer: #MuteRKelly.
Award-winning film director Ava DuVernay sparked the conversation with the hashtag, which is among the top of Twitter's trending topics, on Monday (April 30). She connected her official announcement to another major movement recently endorsed by Hollywood and calling for an end to the previously silenced culture of sexual assault and misconduct, Time's Up.
"We join the call to #MuteRKelly and insist on the safety + dignity of all women," she wrote in a tweet. "We demand investigations into R. Kelly's abuse allegations made by women of color + their families for two decades."
DuVernay demanded that those who benefit from profitable relationships with him and his music cut ties as well, bringing others who joined her to call on Tidal, Spotify and Apple Music to remove his work from their music-streaming services. And as her call to accost the Pied Piper continues to pick up momentum in the Twitterverse's general population, celebrities from all corners of Hollywood are following suit.  
See everyone joining fists with DuVernay to #MuteRKelly below:
John Legend

Jurnee Smollett

Robin Thede

Kerry Washington

Shonda Rhimes

And the rest of the Twitterverse...