Vivica A. Fox Calls Out Kanye West For Using Her In Campaign Video
The rapper posted the now-deleted clip on Twitter.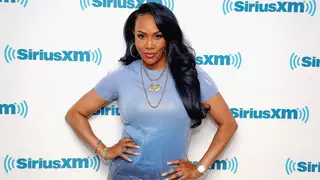 Vivica A. Fox is ripping Kanye West, who now goes by Ye, for including a clip of her in the rapper's latest campaign video that he posted on Twitter.
In case you missed it, in the now-deleted clip shared by Ye, Fox can be heard criticizing the multi-hyphenate creator.
"Yo, Kanye. Eff you. And I mean that with everything inside of me," she says in the video, according to Complex. "You got to cancel him. And I know we not trying to be in a cancel culture but we got to hit him in his pockets now. Because he, obviously, doesn't care about the African-American culture."
On Friday (Nov. 25), Fox headed to her Twitter account to call out West for using her audio in the clip.
"Now dawling if you gonna use a clip featuring me it should be accurate! I was not happy with you 5 saying George Floyd wasn't murdered, but THANKS 4 watching my @foxsoultv show #CocktailsWithQueens & know 2 Can Play that game," Fox wrote.
It doesn't appear that West has responded to Fox's comments but he did previously announce that he would be running for president again in 2024.
In a video from X17Online, a camera person asked if he is running for president. Kanye responds, "Yes…It's simple… It's just we're moving toward the future." The rapper received approximately 60,000 votes when he ran for president in 2020.