Run That Back: This Week in Music Featuring Lil Wayne, Usher and More
Our music staff picks their favorite songs released June 3-June 10.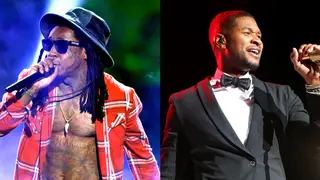 There were a few new notable music releases this week.
In honor of the NBA Finals, Lil Wayne released a song revealing who he's rooting for. "Off Off Off" is Weezy's Cleveland Cavaliers anthem and his newest song in a minute. He was really "being cavalier" in this one.
Usher burst back onto the music scene after being rather quiet over the last few years. Releasing his newest single "No Limit," the singer pays tribute to Master P's label while giving fans a taste of what's to come from his forthcoming album Flawed. Usher's back indeed.
G-Eazy and Jeremih, Justin Bieber and Maybach Music Group were among others who released music. Check out what some of our staff favorites were below.
Rick Ross, Meek Mill and Wale – 'Make It Work'
You have to wonder if the title to MMG's Self Made 4 single "Make It Work" is a double entendre as the crew saw some discord between Meek Mill and Wale. Rick Ross pieces his team back together over a Jahlil Beats backdrop. The result? Meek is as energized as ever, taking over the hook with a nod to Beyoncé's "surfboard." Wale dismisses his contemporaries with, "I done prayed the rappers get the Actavis / So they can all go back to just sleepin' on me." Rick Ross returns to bossman status as the "50 millionaire, motherf**kin' Don Dada." One thing's for sure: the MMG squad is better together. — Iyana Robertson
Lil Wayne – 'Off Off Off'
Disclaimer: I don't speak the #sports at all, so this outpouring of love for Weezy's latest cut has nothing to do with the Cavs, though the line "I'm being cavalier" is pretty decent lyrical placement. No, "Off Off Off" succeeds largely from Ben Billions's operatically infused beat with stuttering snares and Wayne doing what he does. Sure, by the second half of the song you have no clue what Wayne's saying, but who knows what anyone is saying these days? His voice sounds like a flex instrument as it is, so zoom through the synths on this cut, maybe watch some #sports and then wait for the next Weezy track to come around. Perhaps surrounding Rich Gang's release? Wishful thinking. — Kathy Iandoli
Mr. Mauricio Featuring Rick Ross, Yo Gotti and Troy Ave – 'Paper Plates'
Bawses connect! Ross, Yo Gotti and the recently embattled Troy Ave keep it bouncy on club king Mr. Mauricio's horn heavy banger. Keep this one ready in the whip to get you pre-lit for the weekend ahead. — Jake Rohn
Jerreau – 'Really Got It'
There may no longer be Fly Union in an official capacity but that isn't stopping the Columbus, Ohio, trio from reuniting in an effort to push Jerreau's latest solo effort. "Really Got It" was already released earlier this year, but after LeBron James's infamous Instagram post of him dancing to the track, Beats by Dre decided to make a trip to the Buckeye State and capture the visual element of the song. Just in time for Cleveland to make a counter push in the NBA Finals, too. Bankreau really does got it with this one. — Paul Meara
G-Eazy Featuring Jeremih – 'Saw It Coming'
While the Ghostbusters remake is still about a month away from hitting theaters, anticipation certainly is building, with G-Eazy as the latest artist to get a piece of the action. Joining the likes of Missy Elliott, Fall Out Boy, Walk the Moon and Elle King on the film's official soundtrack, the Oakland-born rapper recruits the smooth vocal talents of Jeremih to tackle their contribution together. "Saw It Coming" has a guilty pleasure feel to it and might not be something you'd bump if it wasn't tied to the film, but all in all, the two handle the challenge of creating something that fits the theme well, including managing to naturally weave in the iconic "who you gonna call?" line. The track is a little bit out of left field, but its funky, 1980s-inspired production and semi-cheesy lyrics shouldn't surprise anyone considering the context for which this track was created — and it still might find its way stuck in your head. — KC Orcutt
Usher – 'Crash'
Usher's finally back and in the best form since his "Good Kisser" single. "Crash" was one of two tracks released this week from his upcoming album, Flawed. Aside from how incredibly catchy and smooth the track is, he enlisted the help of artists and songwriters: Carlos St. John and Lee Stashenko. Both are known to have worked with Kieza and Gorgon City and add an awesome newness to Usher's stuff. He seems to finally capture his R&B voice and his affinity for pop into one record. Now we wait for the video. – Jon Reyes
Justin Bieber – 'One Dance (Remix)'
There was an overload of Canadian love when Drake premiered Justin Bieber's remix of his dancehall-influenced song "One Dance" on OVO Sound Radio. The track doesn't feature any of the original vocals from Aubrey. Instead, Bieber croons all over the place with a 1942 in his hand to make it his own. – Janice Llamoca