Every-Non-Spoiler-Thing You Need to Know About 'P-Valley' Season 2
You are not ready for what's happening at The Pynk.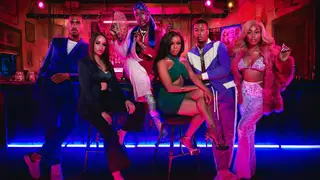 This week, everyone who is anyone is going to be in front of their TV for the return of Starz's risqué original series P-Valley. Personally, I was a late-comer to the Katori Hall and Khaliah Neal created-and-produced show, but it quickly became a hit with a cult following that has since then exploded into pop culture superstardom.

In P-Valley, the show, which was happily renewed for a second season, delves into the lives of Chucalissa's finest dancers, bosses, strippers, and colorful characters, as they attempt to love and make money in this captivating melodrama. Starring Nicco Anan (Uncle Clifford), Elarica Johnson (Autumn Night), Brandee Evans (Mercedes), and Shannon Thornton (Mississippi), the Pynk is on-and-popping once again, promising laughs, meme-worthy quotes, and enviable dance moves to share on your social media pages.
Ahead of P-Valley's return to airwaves on June 3, BET.com previewed the first five episodes of Hall's vision and wants to share every-non-spoiler-thing that we know about what happens down in the Valley.
Note: Spoilers from P-Valley Season One ahead.
Life After Season One

Five months after P-Valley was threatened to close its doors, Season Two focuses on navigating the terse partnership between Autumn and Uncle Clifford. The former bought The Pynk off the latter, yet while all the dancers' jobs were saved, the new leadership comes with the excess drama between the two and longtime veteran dancer Mercedes.  

As Autumn embraces the role of the boss of Chucalissa's finest experience in the trap, her origin story remains surrounded by ambiguity, which, including her power struggles with Uncle Clifford, looks to be only one of the few major storylines that many P-Valley fans are looking forward to watching. 

Other characters such as Mississippi, Lil Murder, and Mercedes find opportunities to grow outside the club, and audiences will enjoy the array of tensions that the characters can't control.

How Did COVID-19 Inspire 'P-Valley'?

The pandemic affects us in the real world, and Season Two is a chronicle of P-Valley and its cast and characters' resilience. "Hardship after hardship has befallen our community, yet we have endured," said series creator and showrunner Katori Hall. Pynk Posse fans will be intrigued to learn just how much the pandemic has been woven into the storyline, making it a visceral way to explore the external and internal hurdles these characters face.   

From Uncle Clifford having to keep their customers 6-feet away at all times and following COVID-19 rules to operate The Pynk to the effects of how wearing a mask and fearing for one's health plays out amongst the dancers, Chucalissa's residents, and the politics that be — P-Valley goes headfirst into throwing obstacles in these characters' way onto trying to rake in the moolah. How will the ever-enterprising Autumn's stake as owner and operator contend with Uncle Clifford's tried-and-true methods? 

We will definitely learn more when the series returns to Starz on June 3.

Who's New at The Pynk?

As advertised, there's new blood at The Pynk, and we're all going to benefit from these dancers and characters for sure! Played by Snowfall's Gail Bean, Roulette is an energetic dancer styled after Tina Turner. According to Hall, she is "aggressive on the pole and probably the most powerhouse dancer of them all." Bean originally auditioned for Season One, and her appearance on the show now will surely move the needle of hype in a positive direction.   

Her dance partner-in-crime, Whisper, played by Psalms Salazar, is billed as a free spirit who is "spiritual, spooky, and sexy" and brings mysterious energy to the Pynk that should keep viewers on their stiletto-fitted toes. "Whisper has a different energy where there's a softness about her, which I think isn't always displayed in other characters," Hall explained. Also joining Season Two is Miracle Watts as dancer-turned-bartender Big Bone, Shamika Cotton (The Equalizer) as Farrah, the wife of one of Mercedes' clients, and John Clarence Stewart as Big Teak, who has a past with Lil' Murder.

While these newcomers definitely are meant to shake things up in and around The Pynk, P-Valley promises that you will love them and their "grit and hustle" because that is the DNA of the show.

What Other Topics Will Be Addressed in Season 2?

Outside of the effects of the "Miss Rona" stopping everyone in their tracks, P-Valley will take audiences into physical and emotional abuse, trust and abandonment issues, and the debilitating matter of police brutality against Black people in America. The discussion about social justice and the need for change are attached to the real-life matter involving George Floyd, which continues to reverberate in real life.

Adding to it is a "very special episode" of P-Valley that highlights the impact of Floyd's murder and an "in memoriam" tribute to lives such as Breonna Taylor, Ahmaud Arbery, and a host of unidentified victims in Michigan, Texas, and California — and P-Valley Season Two is positively using its platform.

What Surprises Await New and Returning Fans at The Pynk?

P-Valley Season Two has already achieved cult status amongst its hardcore base of fans. Katori Hall has created a dynamic and drama-filled series that stands out as a true original when paired against comparative programs like the 2018 docuseries Naked Hustle and 2019's Hustlers. So, what surprises await new and returning fans who can't wait to get back to The Pynk? 

Without going into spoiler-filled details, some surprise special guest stars will imbue certain storylines with some sizzle and spice, a few new villains who will make things harder for Mercedes, Autumn, and Uncle Clifford to keep their cherished spot open, and a cool mid-season episode that shows exactly why Katori Hall is a Pulitzer Prize and Laurence Olivier Award-winning playwright.

P-Valley returns to Starz on Friday, June 3, airing at midnight.

Be sure to check back in as we celebrate the show's return with Katori Hall and selected cast members.

Kevin L. Clark is a screenwriter and entertainment director for BET Digital, who covers the intersection of music, film, pop culture, and social justice. Follow him on @KevitoClark.