'P-Valley' Creator Katori Hall Reveals She Wanted Sanaa Lathan to Star in Season 2
In this BET.com exclusive chat, Hall also hints at a new series exploring the world of cheerleading.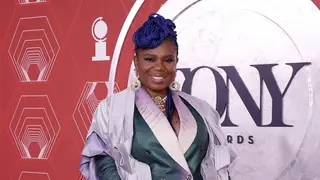 The wait is finally over!
P-Valley is finally back on screens on June 3rd after two years and it was well worth the wait. The show is keeping up with the times and will show how The Pynk will survive after being hit with new COVID regulations this season. And as far as the storylines, juicer than ever!
Creator Katori Hall chatted with BET.com to fill us in on how the writer's room flowed this season, how the music was vetted for the show, and how a certain Black Hollywood legend almost made a guest appearance this season.
BET.com: Fans have been anticipating the show since its season finale. Now, almost two years later, we finally are getting Season Two. Let BET.com readers in on what took the show so long to make its return to our screens?
Katori Hall: [As a group, we were really struggling with COVID. It's hard to create and produce a show during a time where supply chains are diminished and you can't build your sets as fast as you would like to. Everyone was struggling to get the work done just because of the immense amount of extra time that was placed into our schedules. We conquered Miss Rona and now we are back!
BET.com: Can you let us know what the writers room was like as you prepared to expand the storylines?
Katori Hall: I expanded the writers room. We were so diverse with two former dancers in the room, an Irish dramaturg, queer folks, heterosexual folk, older folk, and younger folk that it was like having a diverse body of perspectives.
BET.com: There's an appetite for leading Black women and Queer representation and 'P-Valley' gives you everything and then some. For Season Two, how does the show continue to feed the audiences' hunger and keep it authentic?
Katori Hall: I think it's really about the character. We did such a great job at making these characters that are fictional feel so real because they're going through some of the same things we go through. That's what makes them often authentic. I also feel that being steeped in Black southern culture and being unapologetic in that sh*t is what makes us feel so real and authentic. You're gonna get more of that.
BET.com: When you reflect on how much the show has impacted audiences , how does this motivate you to go bigger?
Katori Hall: I'm really grateful for the validation. The celebration that I see online, in the streets, during Halloween — there's so many Uncle Clifford clips rolling around. The impact of the show is so satisfying. For me, it's about continuing to build that with this beautiful audience that was so underserved. I'm also starting to think about other things and other worlds I want to build. The success of the show is such a gift to me and anyone that watches the show. I just hope we can keep on rolling.
BET.com: What's one world you would like to show as you expand your universe and palette of programming?
Katori Hall: That is a great question! I would love to explore the world of cheerleading. I really love Cheer on Netflix and I think to myself how I can do a fictionalized version of this.
BET.com: Is there anyone you wanted for Season Two that you were unable to snag and would open the door for them to appear next season?
Katori Hall: I really wanted to work with Sanaa Lathan but she is so busy. My girl Sanaa, we're gonna work together one day [laughs].
BET.com: You just celebrated a birthday not too long ago. Are there any wishes you hope to see come true for you as you continue in your career?
Katori Hall: I just wish I get to write every story that is in my mind. I have so many stories — as my husband says, too many stories. I'm constantly living in a sandcastle in my mind so I hope I'm able to write everything down before I pass.
BET.com: Without giving any spoilers away, there's a scene in the beginning where a person is at a crossroads to go to the P-Valley strip club and Mercedes mother's church. Does this scene have any significance to how the entire season will play out?
Katori Hall: Absolutely. People are always going to choose between light and darkness, the real and the performance, appearance versus reality. I will let the readers know that there is someone at the crossroads who may look a little familiar [laughs].
BET.com: The music is the key element which adds to the show's flare. What do you and the team look for when vetting music to add to the show?
Katori Hall: We looooove that deep, gutter, thugger sound. It has to have the snare, the 808, and that bounce to it. You gotta make the booty bounce! So that's number one. You have to twerk to it. When we look at a scene or a moment, we try to choose music that reflects an echo of what is going on.
Get your twerking pants on and get pumped up as we are heading back to The Pynk on June 3rd only on STARZ.
Ty Cole is a New York-based entertainment reporter and writer for BET.com who covers pop culture, music, and lifestyle. Follow his latest musings on Twitter @IamTyCole.