Tennis Legend Slammed for Saying Today's Game Is 'Full of Lesbians' and Comparing Them to the Devil and Hitler
"It's hate speech."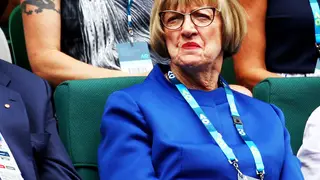 With 23 Grand Slam titles, Serena Williams is currently one away from tying Margaret Court's 24 for the most major tournament championship wins in women's tennis history. Earlier this month, a pregnant Williams vowed to return to tennis sometime after she gives birth.
Meanwhile, Court is making headlines for an entirely different reason.
"I mean, tennis is full of lesbians," Court began saying, as reported by BuzzFeed. "Even when I was playing there was only a couple there, but those couple that led, that took young ones into parties and things ... because they like to be around heroes. And you know, what you get at the top is often what you'll get right through that sport."
And she only continued with her inexplicably shocking thoughts, next taking aim at transgender children.
"With the literature, the bullying, the stuff that's put out today to children's minds — I tell you what, if you haven't got parents who bring you up that way and you've got parents that don't care, and you're hurt and offended if somebody's saying something to you... your child can just start to think, 'Well maybe I am a girl' when they're a boy, or 'Maybe I'm a boy and I'm a girl'," added Court, 74. "That's all the devil, but that's what Hitler did and that's what communism did — got the mind of the children. And there's a whole plot in our nation, and in the nations of the world to get the minds of the children."
Wow. Just ... wow. And upon hearing Court's remarks, tennis fans and well beyond didn't hesitate slamming the tennis legend.
About that 'tennis is full of lesbians' remark ...

Yeah, we'd call this a backhanded power serve. Epic clapback.

Openly gay tennis legend Martina Navratilova wasn't having it, either

Navratilova is referring to the Margaret Court Arena named after the tennis legend in Australia.

And people were with the idea of changing the name asap

We're with this ... and soon.

Court's Words Were Labeled 'Hate Speech'

With Every word that Margaret said, she did this ...

Her Vile Remarks Have Us Thinking This More Than Ever ...

Yet another reason to cheer on tennis's GOAT!

As blunt as this tweet is, perhaps it sums the Internet's feelings up the best ...

Time to shut down this Court.