Michael Jackson's Son Prince Jackson Details Stevie Wonder Calling Him To Celebrate His Father's Birthday
Prince shares how Wonder called to tell him how "great" Michael was when he was alive.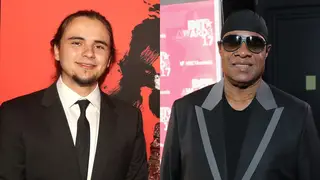 During Friday Night's Thriller Halloween party to commemorate the 40th anniversary of Michael Jackson's iconic album and single, the King of Pop's son, Prince Jackson, told People Magazine about Stevie Wonder face timing him on his father's 64th birthday to express how "great" his father was.
Prince tells the magazine how they celebrated the late musician's birthday in Vegas and shares the story about receiving the call from Wonder.
"We have our one show out there, and we host a birthday celebration yearly for him," Prince told the publication.
"Went out there, got to hang out with many people from the fan club communities. It's an awesome weekend of just love and celebration, And I don't know if I'm supposed to tell you this, but I'm gonna tell it to you because it was impressive to me. I got a FaceTime call from Stevie Wonder, who wanted to talk about how great my dad was. And that was an awesome, awesome experience. Yeah, oh my God. It was nuts. It was nuts."
He continued, with Prince expressing how he wishes the world acknowledged more of his father's philanthropic efforts.
"Everybody knows about him as the performer, the King of Pop, everything like that, but not as many people know about his Guinness World Record for one of the biggest donations in history," he shared.
"And he cared so much about children, about healing, and it's evident. If you listen to his music and you listen to the lyrics, you can hear that. That's 50% of the reason why we're here. My father was very adamant about giving back and living a life of service," Prince said of the late pop star. "He used to tell me how blessed we are and we have more than what most people have and it's very important for us to continue to bless those who were less fortunate than us."