[Video] Trump Gets Dragged on Twitter for Mocking Eric Garner
Does Donald Trump care about the Black vote at all?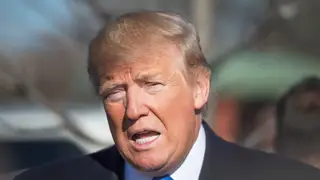 Donald Trump's campaign is a bottomless pit of lows.
The GOP frontrunner called out Mitt Romney losing the last presidential election during a speech in Rome, New York on Tuesday. But his use of Eric Garner's "I can't breathe," was immediately met with criticisms for being tasteless and insensitive.
"The last election should have been won, except Romney choked like a dog," Trump said. "He choked."
Sadly, some supporters laughed at the Romney dig with no regard for Garner, his family or the Black Lives Matter movement.
"Trump using Garner's words 'I can't breathe' as a joke to verbally attack a politician makes me sick to my stomach #EricGarner," one woman tweeted.
He made the announcement about hiring Wiley on Wednesday, the day after poking fun at Garner's last words as a dig to Romney. 
(Photo: Scott Olson/Getty Images)