Nia Long Shares One Relationship Red Flag She's Learned And The Type Of Man She's Looking For
Her 'Missing' co-star, Storm Reid, also lets us know what she's manifesting in 2023.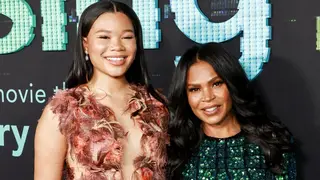 Will her daughter find her, or will it be too late?
Nia Long and Storm Reid are keeping audiences on the edge of their seats in their new film Missing, the suspenseful sequel to Searching, which follows 18-year-old June Allen (Reid) who is searching for answers after her mother, Grace Allen (Long), goes on a vacation with a new beau and doesn't return home. The teenager uses technology to track her mother down but discovers her mother is hiding a secret that may be the answer to locating her disappearance.
In a conversation with BET.com, Long and Reid share what is "missing" in their lives at this time that they manifesting in 2023, relationship red flags, and how important technology can be to finding missing persons in today's time.
BET.com: What's one thing in your life that has been "missing" that you're calling in for 2023?
Long: More fun. I spend a lot of time taking care of everyone else, which I'm grateful for as I love my family and kids, but this year is all about me.
Reid: I'm calling in love, camaraderie, and community.
BET.com: How was it working with Nia Long on this film and what's one thing you learned from her?
Reid: Working with Miss Nia was incredible. She's an icon and a legend in her own right. She poured into me, and I admired her while onset because she isn't afraid to take risks. She's not afraid to go in a different direction and switch things up.
BET.com: The film touches on relationship red flags and dating apps to an extent. What's one relationship red flag you're aware of now in that you didn't know before?
Long: People can live double lives and become clueless, so you have to take the time to check it all out. I would also say take your time. The thing I despise the most is a liar. I can deal with anything but just tell the truth because when you don't tell the truth, it means you don't respect me. I would also say being transparent, honorable, respectful, fun, God-fearing, and sexy — I have a whole list for 2023.
BET.com: There are tons of missing Black women in America whose stories unfortunately get ignored. What impact do you think the film will have when it comes to extensive searches for missing people moving forward?
Long: The film is a reminder to use technology in a way that maybe you wouldn't think to use technology initially. Storm's character does a better job of identifying my whereabouts than the actual authorities, and there's something to be said about that.
See if June finds her mom and head to theaters to see Missing, premiering in theaters on Friday, January 20th.