Jazmine Sullivan Opens Up About Finding Herself During Music Break
The singer is back after taking three years to focus on her happiness and faith.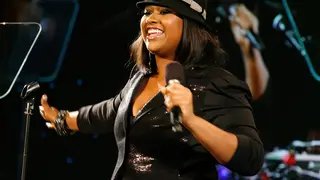 When Jazmine Sullivan announced that she was taking a break from music back in 2011, fans knew the singer would be sorely missed, but now she's back with a new album and a new outlook on life. In a recent interview with MadameNoire.com, Sullivan talks about needing to take that time for herself, her relationship with God and how she's come to embrace her beauty.
"I wouldn't say I've lost a lot of weight but I'm definitely a lot more comfortable with my body. I think as you get older, you can kind of own it a little more. I'm not as small as I was when I first came out…but I think I'm just more comfortable with my body now," Sullivan said. "When people see it, they feel that energy. When you're comfortable, and you're feeling yourself and you think you're cute, people feed off of that. Let me tell you, my journey with my looks, it fluctuates like every other woman in the world. Sometimes you see me and I might have eaten too much macaroni [laughs], and sometimes I may be a little slimmer. It's a constant journey for me. At this point in my life, I'm not going to sweat it. I think before, I was thinking about it so much that it kind of made me a little miserable. But this is who I am, and I'm just owning my body."
Sullivan, who said personal issues and trouble in the industry is what caused her to step away from the scene for three years, is now back with a new album, titled Reality TV. The name is a nod to both her obsession with reality shows during her hiatus and how the tracks serve as a glimpse into her life. Not only did she find a renewed sense of self, but she's also continued cementing her faith in God. She's even toying with the idea of creating a gospel album someday.
"Definitely my relationship with God is something I have to stay focused on," Sullivan said. "That is the center for me, and for everybody. I think because I'm working on that, everything else is falling into place now. I'm just ready to come back and do what I know I'm supposed to be doing. And this time I feel like I'm going to enjoy it so much more because I'm just so much more comfortable with who I am.
"I was focused on a lot of other things and as any Christian knows, or anybody, even if you're not a Christian, there's order to things. God is supposed to be first and then everything else comes after. I think that when you do that, everything does kind of line up and fall into place."

Get ready for the BET.com always gives you the latest fashion and beauty trends, tips and news. We are committed to bringing you the best of Black lifestyle and celebrity culture.
Click here to subscribe to our newsletter.
Get ready for the BET Experience, featuring Mary J. Blige, Maxwell, Jill Scott, A$AP Rocky, Rick Ross and many more. Click here for more details and info on how to purchase tickets.

 (Photo: Andy Kropa/Getty Images for Communications Strategies)